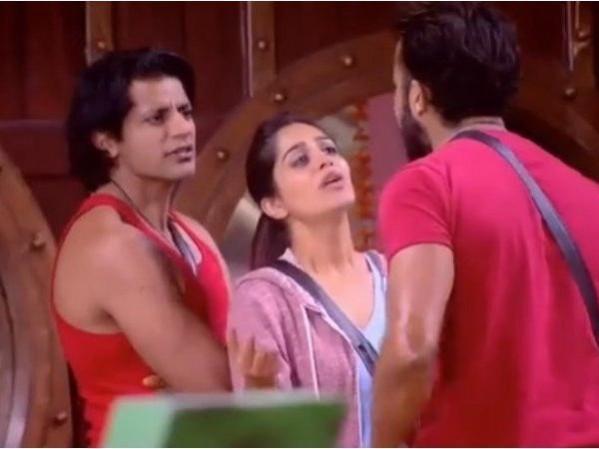 10.00: Kaal-kothri duration for the three gets over and they happily come out of the jail. Upset with all the allegations, Srishty breaks down later.
09.55: Housemates again start linking Rohit with Srishty. Rohit tells Srishty not to react and they wouldn't do it. Srishty says that such allegations do irritate her and that's why it would be evident on her face. Jasleen apologises to Srishty for linking her with Rohit.
09.50: Rohit and Srishty get a chance to dance to 'Nazm nazm..'. The duo win hearts with their romantic performance. Karanvir and Megha dance to song inside the jail. Housemates start discussing that Rohit's decision was not unexpected and he wasn't fair during the task.
09.48: The three divas start putting on make-up and look ravishing. Rohit first starts talking to Jasleen who tries her best to convince him what makes her the best. Somi goes next. Somi also tries to convince him that she is the best looking girl in the lot. Srishty talks to Rohit about inner beauty. Rohit says that Srishty's smile is the best amongst the three and declares her the 'Maybelline New York Queen of Bigg Boss title'.
09.45: Megha and Karanvir are seen discussing Romil's attitude. They also discuss how Surbhi and Romil have started supporting Sreesanth to bring him to their side. Housemates are given a task - Maybelline NewYork make-up challenge. The task would take place between Srishty, Jasleen and Somi. The task will have three rounds. Upon the first buzzer, the three contestants would put on some make-up and try to convince Rohit what makes them better than the two.
09.40: Romil and Megha get into an argument. Srishty and Dipika are seen discussing Sreesanth's strategy and decide to try to change his mind make him support them always. Dipika says that he is one of the strongest contestants of the house and has maximum chanes of winning the show.
09.35: A fight breaks out between Srishty and Jasleen over bathroom and hygiene. Dipika and Srishty intervene and support KV. Sreesanth says that he has lost all the respect he had for Dipika. Almost all the housemates say that Sreesanth's decision to send KV was unfair.
09.30: Karanvir tries to explain his stance to Sreesanth and tells him that many other people have done worse things inside the house and yet he didn't nominate them. Dipika argues with Sreesanth once again and things get heated up inside the house. Karanvir tells Sreesanth that he never supports those who stand by him. Jasleen too supports KV.
09.25: Bigg Boss gives Sreesanth the power to save one contestant and choose one from the safe contestant to be sent to the jail. Sreesanth sends Karanvir and saves Deepak from going to the jail. Karanvir and Dipika are seen discussing that Sreesanth's decision has been unfair. Dipika asks Sreesanth and he says that the next highest votes had gone to KV and thus he chose him.
09.20: Karanvir takes Rohit, Megha and Deepak's name. Jasleen says she would want to send Deepak, Megha and Rohit to the kaal kothri. Dipika nominates Deepak, Megha and Rohit. Surbhi takes Deepak, Megha and KV's name; Deepak takes Megha's name. Megha takes Romil, Surbhi and Rohit's name. Rohit nominates Deepak, Megha and Karanvir. Somi wants Megha, Rohit and Deepak to be sent to the jail. Romil takes Megha's name. Sreesanth nominates Rohit, Megha and Deepak. By majority, housemates decide Megha, Rohit and Deepak to be sent to the jail.
09.15: Romil tells Megha that her name has been on top for being sent to the kaal-kothri. Megha gets angry and says will not go to the jail at any cost. Jasleen supports Megha. Jasleen says that as per him Deepak, Rohit and Megha should be sent to the jail. Deepak says that she would be sent to the jail for sure.
09.10: A part of the poster on the bathroom's door breaks and Deepak and Karanvir start blaming each other funnily. A small argument breaks between Somi and Romil and they both decide not to talk to each other for a few days. Romil says that it's Vikas Gupta who must have made her change her attitude and viewpoint.
09.06: Jasleen gets upset seeing Sreesanth cleaning the house. She asks him to shift her to utensil cleaning which Sree denies. Jasleen asks Rohit who complained against her to Sreesanth and Rohit says it was him and Srishty. Sreesanth says that he already has decided two names to be sent to the jail.
09.02: Housemates wake up to witness a beautiful poster of Alia Bhatt placed in the garden area. Despite being the captain, Sreesanth starts cleaning up the bedroom and says that Jasleen doesn't clean the room properly. Megha says that it is her choice of dressing that makes her uncomfortable while doing the household tasks.
Tempers are flying inside the Bigg Boss house with housemates losing their cool every now and then. While Sreesanth apologised and patched things up with Karanvir Bohra and other housemates, some of his decision's in tonight's episode would misbalance the equation once again.
Let's take a look the ruckus that's created inside the house while nominating people for the kaal-kothri.