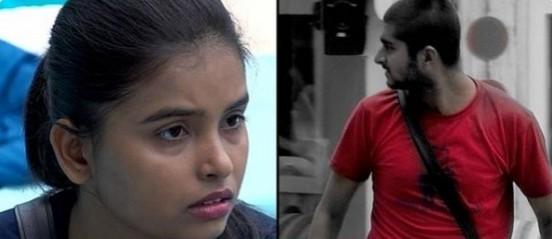 09.50: Wildcard entrant Megha Dhade now enters the scene. Being the winner of Bigg Boss Marathi, she now starts her class proclaiming the need of staying united. She informs Karanvir that Sreesanth and Dipika Kakkkar should have supported him during the time of tiff.
09.40: Deepak now calls Karanvir, as he felt that Deepak is intentionally provoking Urvashi. Surbhi started yelling, and Karanvir loses his calmness.
09.35: Deepak gets another egg, and he crushed Rohit's cutout. Srishty now starts laughing, as Deepak deviated from his promise.
09.25: The egg task to determine the captain of the house turns ugly when Saba and Somi cry due to Deepak's change in plans. In the meantime, Deepak manages to grab one more egg, and he soon crushes Srishty Rode's cut out. Earlier, Rohit Suchandi had grabbed an egg, and he had crushed Anup Jalota's cut out.
09.23: Deepak and Urvashi now start fighting each other. The argument later turned out of control, and Urvashi now throws a bottle at Deepak. As everybody tried to calm down Deepak and Urvashi, another argument originated inside the house between Romil and Sreesanth.
09.18: After some time, Romil guides Deepak on how to play the game. Later, Urvashi reveals that Deepak has turned into her enemy inside the house unnecessarily. Surbhi and Somi can be now seen saying that Megha Dhade is good at kitchen works.
09.17: Urvashi and Deepika discuss each other about the unfair game other contestants are playing inside the house. Dipika reveals that Deepak has played the unfair game recently.
09.15: Somi alleges that Deepak has been staring at her for a while for negative intentions. She also added that Somi used to leak their talks to Srishty Rode.
09.10: Srishty Rode and Rohit starts discussing their game plans inside the Bigg Boss house. Later, Rohit discusses the same with Romil, and talks about the captaincy tasks. Romil reveals that he loves to be the captain of the house.
09.05: All the contestants in the Bigg Boss 12 house started dancing with the song Bach Ke Rehna Re Baba.
A tweet from Colors TV just hours before the October 24 episode of Bigg Boss 12 has revealed that the main highlight of today's episode will be the fight between Deepak and Urvashi. Bigg Boss has also revealed that the contestant who wins the maximum number of eggs will become the captain of the house. It should be noted that the entry of wildcard entrants has destabilized the rhythm of some housemates, and it will be also reflected in today's episode.