With time, the 'Happy Club' inside the Bigg Boss 12 house which comprises of Somi Khan, Surbhi Rana, Romil Chaudhary and Deepak Thakur has managed to carve a special place for themselves in the heart of the audience. From fighting, bickering, enjoying to teasing; the four of them can always be seen together, taking a stand for each other.
Not just the audience, even the housemates have realised and started valuing their friendship. In a recent episode, we saw all four of them, who are the only four to be nominated this week, singing songs on friendship and crying at the thought of leaving each other.
Though their friendship is as thick as it could get, some audience would like to see Surbhi Rana leaving the house this week. As per a poll conducted by IBTimes asking the readers whom they would want to save, the audience expressed their wish for Romil Chaudhary to stay in the house and Surbhi Rana to get evicted.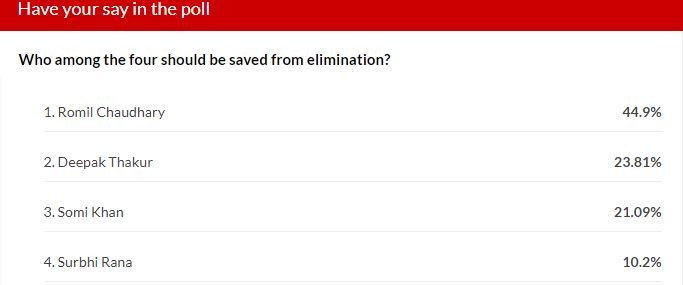 While Romil bagged the first place in the survey and saved himself with 44.9% votes, fans wished Surbhi Rana's eviction with 10.2% votes. Deepak Thakur bagged the second place in the poll with 23.81% votes. Somi Khan secured the third spot with 21.09% votes.
The table seems to have turned inside the Bigg Boss house as the four contestants who were safe last week are now the only four to have been nominated for eviction this weekend. Romil Chaudhary, Surbhi Rana, Somi Khan and Deepak Thakur; one of them will face the axe on this weekend ka vaar.
Will Salman cancel the eviction for this on account of Diwali or will someone from the happy club leave the group tonight, remains to be seen.