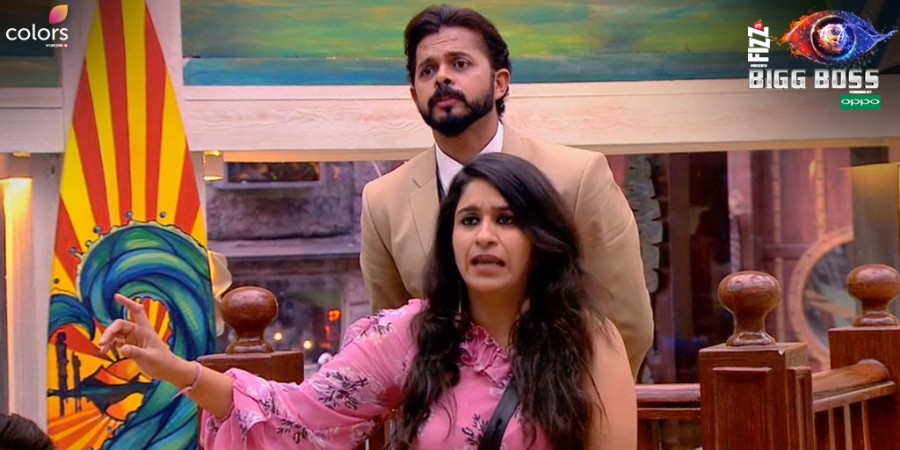 10.00: Sreesanth's wrong way of apologising irks the housemates and even Dipika. Sreesanth lsoes his cool and gets into an argument with the housemates.
09.55: Megha tries to manipulate Romil and says that they should join hands and evict people from the other group one-by-one. Dipika tries to put some sense into Sreesanth and asks him to apologise to Surbhi once. After initial denial, Sreesanth leaves the bed and goes angrily to apologise to Surbhi.
09.50: Salman reveals that the same set of nominations would be carried on next week too and there would be no eviction this week. He also informs the housemates that the total votes from this week and the next week would be added and then the decision would be taken.
09.45: Salman takes the audience through the new show on Colors TV - Vish ya Amrit. Khan makes fun of Romil and says he cheated to lose. The Dabangg star then reminds the housemates who all are nominated.
09.40: When Salman questions Somi about the same she says that Romil has promised her that he would never do any such thing again and thus she decided to give him another chance. Romil and Rohit are called into the sultaani akhaada. The first round of zubaani akhaada is won by Romil. Rohit wins the second round. Rohit wins the akhaada task with maximum points.
09.35: Caller of the week asks Somi that when she herself says that she is not a weak player, then despite being ridiculed by Romil time and again, why she continues be friends with him. Somi defends herself by saying that they are the best of friends inside the house and hence it would be difficult to understand their camaraderie.
09.30: Deepak and Somi also get into an argument over her bond with Romil. Housemates confess that they have seen and felt something inside the house. Salman says that asks the housemates could be the person behind doing all this inside the house. Salman makes up a story and scares the housemates even more.
09.25: The trio dance to "Sweetheart" song from the film before leaving the sets. Salman enters the house through video tv to interact with the housemates. Romil and Deepak get into an argument over the comments made against Somi.
09.20: Sara and Sushant decide to play the headphone game with Salman Khan which brings in a lot of laughter and fun on the sets. A self-confessed Shah Rukh Khan fan, Sushant recites a line from SRK's film and impresses everyone. Salman takes a dig at Shah Rukh in the same beat.
09.15: On being asked who is playing the worst game, majority goes with Deepak. Jasleen's name emerges as the most insecure person inside the house. Romil's name comes up as the biggest thankless person inside the house. After the task, housemates dance with the celebrity duo before they leave the house.
09.10: Sara Ali Khan and Sushant enter the Bigg Boss house to promote the film and play some fun games with the inmates. Sara says that they would play a game where a question would be asked to each one of them and they have to take the name of any one contestant as the answer. On being asked who is the least performer in the show, majority goes with Dipika. Dipika is tied to a wheel and rotated, housemates have to throw water balloons at her.
09.05: Sara Ali Khan and Sushant Singh Rajput enter the sets of Bigg Boss 12 to promote their film - Kedarnath - with Salman Khan. Salman gives a scintillating introduction of Sara Ali Khan. Salman asks Sara to choose between Sidharth Malhotra and Varun Dhawan. Sara chooses Varun. Between Varun and Tiger, Sara again chooses Varun. Between Varun and Ranveer, Sara again chooses Varun. Between Varun and Saif, Sara chooses Saif. Between Salman and Saif, Salman himself clears the way out for Sara.
After last night's intense grilling session by Salman Khan over Sreesanth and Surbhi's questionable behaviour, both the contestants had broken down into tears. While housemates were divided into groups supporting both of them, Sreesanth lost his cool and locked himself inside the bathroom. In a fit-of-rage and disappointment, he even hurt himself inside the bathroom. Doctors had to be called in to look after him.
With Megha, Dipika, Romil, Deepak and Jasleen nominated for this week's nominations, we wonder who would face the axe tonight. Stay tuned at 9pm to know all about what's in store for the housemates tonight.