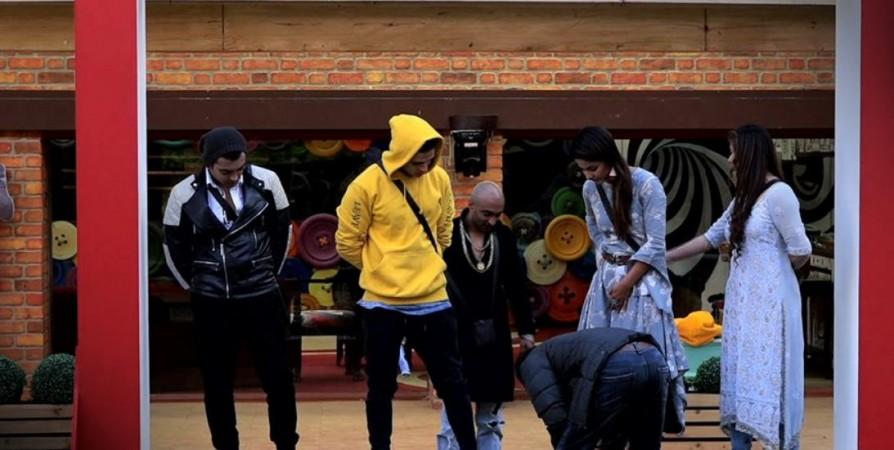 The first episode of the New Year saw four of the strong Bigg Boss 11 contestants -- Hina Khan, Shilpa Shinde, Vikas Gupta and Luv Tyagi -- getting nominated for eviction this week.
The nomination has left viewers in shock given that Puneesh Sharma and Akash Dadlani, who aren't as strong as the rest of the contestants, are safe from the danger zone and have entered the finale week.
Bigg Boss 11: Strong contestants in this week's nomination list; angry fans call the show rigged
Bigg Boss gave them a task in which the contestants had to choose among themselves as to who will be in the danger zone this week. The task was to rank each other and after a lot of discussions, Akash, who always wanted the top spot, was given the position while Puneesh took the second spot followed by Luv, Shilpa, Hina and Vikas. While the contestants believed that they performed the task wisely, Bigg Boss added a twist to the task by naming all the contestant after the second spot to be nominees for eviction this week.
The nomination left fans annoyed who vented their anger on Twitter. Many called the makers biased and the show rigged for placing Akash and Puneesh in finale week.
If this was not enough, the makers have closed the voting lines for the week, which means that fans of nominated contestants can't vote to save their favourite inmate. This has further infuriated fans.
Here are some of the Twitter reactions on voting lines being closed for the week:
Flying high: #Puneesh won ticket to finale. Don't know what to say. Ppl predictions of top 3 or top 4 seem to b falling apart. I think makers are also confused. Voting lines are closed.They are trying to save whom #BiggBoss11 #BB11
Aahil is back~VK⅛ ✨ : Luvtyagi ke supporter ka Dil khush ho gaya voting lines are closed
Luvtyagi ke fan ko confirm ho gaya tha ke is bar #Luv is week gaya
#BB11 #BiggBoss11 #HinaKhan #Shilpa #Vikas #LuvTyagi
Aman: Voting lines are closed...does it mean that again fake live voting?
Pure evidence that #BiggBoss11 team is doing everything now so that audience has no insight in voting and they could eliminate #LuvTyagi manually
#VikasGupta #ShilpaShinde #HinaKhan #AkashDadlani
nishu sheikh: @_BiggBoss11_ @ColorsTV @issahilkhattar Voting lines r closed ds week..Q #BiggBoss11 aap Luv ko bacha rhe h..Apni ladki keliye pasand kr liye h kya #sastabobbydeol ko