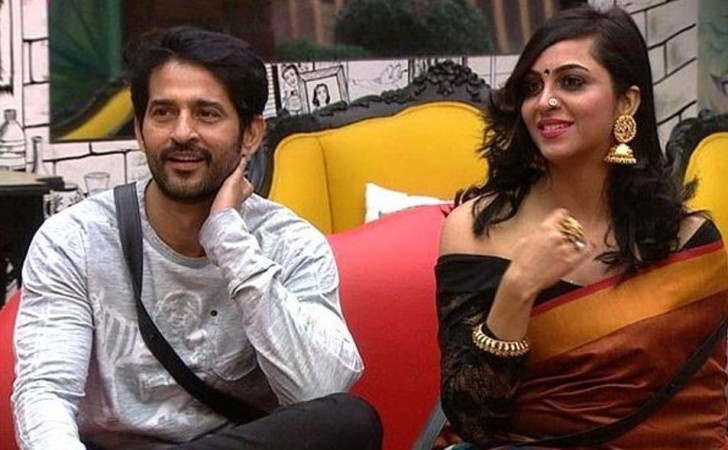 Bigg Boss 11 recently had to let go Bandgi Kalra from the house and as per the usual Monday ritual, other contestants were nominated for this week.
Bigg Boss asked the housemates to come to the confession room one by one and pick a name who they want to save.
While Akash Dadlani and Luv Tyagi were with the lowest votes, Bigg Boss gave an opportunity to captain Vikas Gupta to save one of the nominated contestants and nominate one of the saved contestants.
Thus, Vikas saved Luv and nominated Shilpa Shinde. After this episode got over, the housemates were seen asking each other who nominated who.
While Arshi took Hiten's name, the actor too said that he voted for her. But in reality, Hiten voted for Shilpa. We wonder why Hiten lied.
Is it some kind of strategy? May be Hiten thought that Shilpa is nominated and she "may" get evicted this week. So, he wants a few members to his side for next nomination process.
Hiten has been a very safe player in the house till date. His best strategy in the house has worked and it is be with everyone. Whether it's a fight or a task, the actor will be seen going to 'I am calling Switzerland' mode. But in reality, he is also one of the guys who loves to bitch, but he knows when and how to talk.
While we are shocked seeing Hiten lying on camera, here's how Bigg Boss 11 fans reacted to it.
#BB11 Arshi ened to STOP supporting @tentej HITEN...Yesterday NO ONE voted for HITEN except for Arshi. .warna woh nominated HOTA...And what is hiten doing??? PLAYIG AROUND..

— Amrita Phadnis (@PhadnisAmrita) December 5, 2017
Hiten is a gentleman n a very smart player??
He didnt reveal that he saved shilpa nd told arshi's name

Arshi in dreamland!!!!!!????
Bichari?#BB11

— Sanj K (@Sanjkss) December 4, 2017
LOL Hiten lied to GHAJININA ??? that he saved Arshi ! N sweet of him to return the favour where Shilpa had also saved him n he actually understands how lonely n cornered she is by everyone :D #BB11

— ShilpaFTW ? (@PreetikaRules) December 5, 2017
I just had a thought.

Imagine if the Appy Fizz caller of the week asks Hiten,

"Why did you nod when Hina asked u if u saved Arshi? When in real u saved Shilpa"

Bechara.. phass jayega ganda wala & naagin bhi dass legi usko ??#BB11 #BiggBoss11#HitenTejwani #ShilpaShinde

— V. ?? (@Viipra) December 5, 2017
Wasn't it surprising that Hiten was lying that he voted for Arshi when he has infact voted for Shilpa? Well for me, it was not at all surprising.This mahaanta ka devta is the biggest hypocrite of the season. Playing a very sly game & escaping nominations. @BiggBoss#ImWithAkash

— Aarzoo Lah? (@AarzooLah71) December 5, 2017