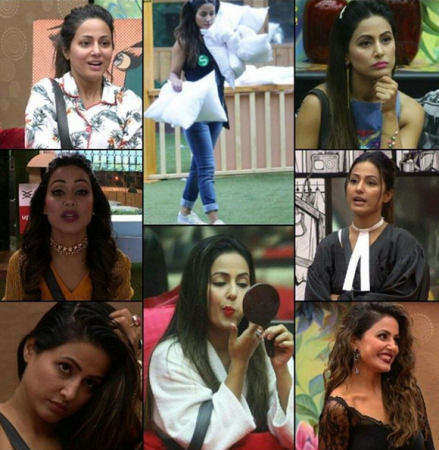 Hina Khan definitely tops the list for the most hated contestant in the Bigg Boss house. Further, it is observed that she has a strange habit of bragging about the 'price tags' of the stuff she carried inside the house.
ALSO READ: Bigg Boss 11: What! Hina Khan confesses that she is 'jealous' of Mona Singh [VIDEO]
Instance 1: On Day 39, when Hina Khan was sent to jail with Hiten Tejawani, she told him that there's a restaurant in Mumbai which serves excellent food and will merely cost '13-14K' (Rs 13,000 to R 14,000) for 3-4 people.
While Hina ROYALLY IGNORED Arshi who was yelling all taunts on her 4m garden area, ?? #HinaKhan was discussing Mumbai and 7 star hotels w Hiten & Benafsha. ?❤
Hina is a sweet soul, who is having constructive talks even in jail. ?#mtvextradose#BB11
WE STAND FOR HINA KHAN

— WARRIOR PRINCESS HINA KHAN ?✨ (@iPGaur) November 10, 2017
Instance 2: Hina Khan was seen requesting Luv Tyagi and Priyank Sharma to not spoil her face pack as she was afraid that someone else might repeat the same action and it is worth Rs 4,000.
Instance 3: Khan was tearing apart the price tag of her fancy footwear and said that it was Rs 4,489. Post which, Priyank Sharma, Vikas Gupta and Hiten Tejawani were seen making fun of her.
While it is obvious that Hina Khan earned enough during her 8-year stint on TV but boasting about it is definitely not a good idea. Many senior actors are in the house and no one talks about the 'price tags' the way you do.
Talking about Hina Khan's controversies – well, it's bigger than Bigg Boss contestant list. The actress has managed to grab the headlines after she made shocking statements about Sunny Leone, Salman Khan and Gauahar Khan's social media followers; she also spoke about south Indian cinema actresses; made body-shaming comments on Shilpa Shinde; tagged Sakshi Tanwar as 'squint-eyed' and mentioned how Sanjida Sheikh doesn't look beautiful on camera.
Fans and celebrities have slammed Hina on Twitter and we hope God puts some sense into her and she comes out of her bubble.