Looks like Hina Khan doesn't want to put a zip on her lips. She yet again makes a shocking statement – and this time it involves Mona Singh.
In an unseen video on Voot titled 'Hina Khan is jealous', the actress is seen telling Priyank Sharma and Vikas Gupta that she is no. 2 actress and is jealous of Mona Singh. She confessed that when she met Mona during Khatron Ke Khiladi promotions, she clearly expressed her feelings to her about the same.
She recalls how her mentor Romesh Kalra used to tease her that Mona is always No.1 and I am still behind her: "For eight years I have constantly listened to this."
Well, we wonder how Mona Singh must have reacted to that.
Hina Khan seems to be living in a bubble. After her stint in one soap opera for eight long years and two reality shows in her kitty – she believes that she's the number one actress of TV.
In tonight's upcoming episode, Priyank Sharma and Hina Khan will enter into a war of words as he calls her 'insecure'. She has stopped talking to Priyank and Luv over this as she thinks it is hampering her image outside.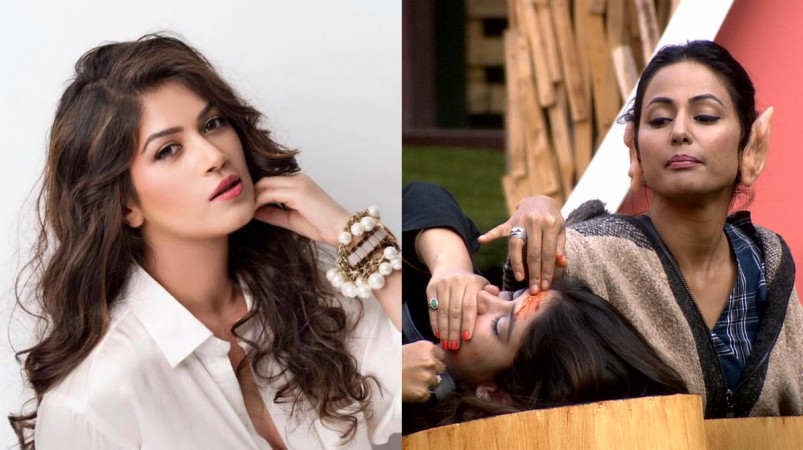 Recently evicted contestant Bandgi Kalra has called her 'self-obsessed', 'jealous' and 'insecure'.
Hina Khan has time and again demeaned a lot of actresses inside Bigg Boss house. She managed to grab the headlines after she made shocking statements about Sunny Leone, Salman Khan and Gauahar Khan's social media followers; she also spoke about south Indian cinema actresses; made body-shaming comments on Shilpa Shinde; tagged Sakshi Tanwar as 'squint-eyed' and mentioned how Sanjida Sheikh doesn't look beautiful on camera.
Fans and celebrities like Kishwer Merchant, Karan Patel, Bani J, Sambhavna Seth and many others have slammed Hina on Twitter and we hope God puts some sense into her and she comes out of her bubble.