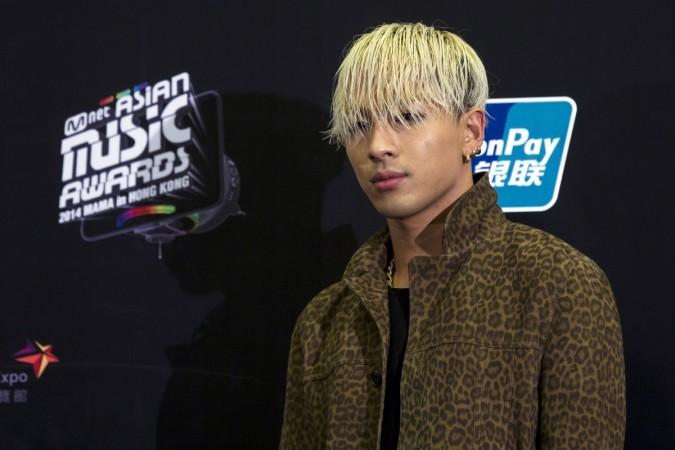 Among the many couples on the K-pop scene, BIGBANG member Taeyang and Unnies' member Min Hyo Rin are undoubtedly among the cutest. This pair has never shied away from expressing their love or checked themselves before revealing tidbits of news about their relationship. Although Taeyang and Hyo Rin have never appeared cutesy or engaged with the paparazzi, they did show just how serious they are about each other during their recent date.
The BIGBANG member, who is currently in Japan, spent a day with his girlfriend in Tokyo doing what most other couples do: shopping. Taeyang and Hyo Rin were seen strolling in Ginza district of Japan's capital city and several pictures of the two reveal they were colour-coded when they stepped out.
Taeyang was dressed in a black T-shirt and blue jeans while his lady love donned an all-black ensemble complete with a top, skirt and a black handbag.
The 27-year-old BIGBANG member's date with his girlfriend in matching clothes has the hearts of the twitterati in a flutter. Fans who are inspired by their chemistry took to the micro-blogging site and said they hope Taeyang and Hyo Rin get married soon because they can't wait to see their kids.
However, Taeyang and Hyo Rin's relationship has had its share of troubles. In an honest interview, the JYP Entertainment artiste said she broke up with the "Eyes Nose Lips" singer briefly but added that they got back together quickly.
Taeyang and Hyo Rin went public with their relationship in June 2015 but were known to be dating each other months before.
Taeyang is currently preparing for BIGBANG's 10-year anniversary concert while Hyo Rin recently finished filming KBS2's "Sister's Slam Dunk."