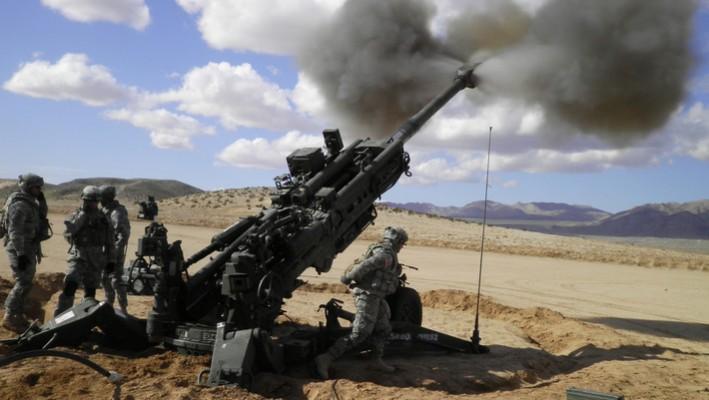 The Indian Army is all set to expand its military weapon system with the induction of three gun systems - M777 Howitzers, the K-9 Vajra and the Composite Gun Tractor.
The weapons were formally inducted in a ceremony in Deolali in Maharashtra which was attended by Defense Minister Nirmala Sitharaman and Army chief Bipin Rawat.
This is the first set of artillery guns to be imported since the Bofors in 1980.
"It is after 30 years that we are procuring such guns. Under the new government since 2014, procurement of Army equipment has been expedited. Under the PM's guidance, negotiations were started and within four years we inducted these guns and many more will be inducted in the future," Sitharaman said during the ceremony, reports India Today.
Recently, the government had also increased the financial power of the vice chiefs of Indian Army, Navy and Air Force with upto five times the existing powers. The government officials said on Thursday that the increase in the financial powers would aid in expanding the arms and ammunition of the defence in India.
"With the new delegation, the vice chiefs will be able to exercise financial powers up to five times more than the existing powers, with an enhanced ceiling of Rs 500 crore," an official ministry report said, reports Economic Times.
It is said that the guns will help amp up the country's defence, especially in the Indo-China and Indo-Pakistan borders.
Sitharaman said that while India was in talks with the United States regarding the buying of the M777 ultra-light howitzers, the discussion gained momentum only over the past three years.
India will be buying 100 K9 Vajra at a cost of Rs 4,366 crore and 145 M777 Howitzers for Rs 5,070 crore.
The first regiment of the K-9 Vajra will be delivered in July 2019. With respect to the M777 Howitzers, the first batch of five guns will be delivered by August 2019 and after that, five guns will be delivered every month. The process will take place for two years.
Two of the guns were delivered to India in 2017 for testing. Three more followed next year. The deal said that 20 guns will be given off the shelf while the rest of the 120 will be assembled in India with the help of Mahindra.
The Composite Gun Tractor will include both M777 and the K-9 Vajra. It is fitted with a crane and can control weapons weighing up to two tons.
Otheacquisitionsns in the future are Advanced Towed Artillery Gun System and the Mounted Gun System.