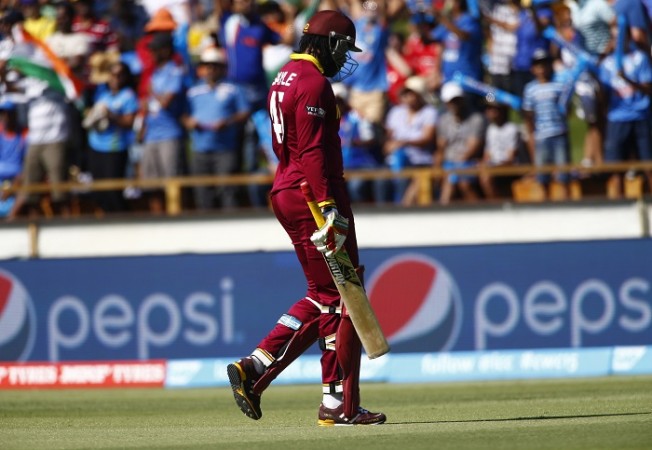 Chris Gayle would have hoped his bat to do the talking and take a bit of the heat away from the backlash following the sexist comments he made to a TV reporter, but the left-hander's blade failed to produce the goods in the Melbourne Derby of the Big Bash League between Renegades and Stars at the Etihad Stadium.
Gayle came into this match under a massively dark cloud, with several calls coming in asking him to be banned from playing in the BBL – Ian Chappell took it a notch or two above that – after his unacceptable public flirting on live TV, during what was supposed to be a cricket interview with Channel 10 reporter Mel McLaughlin.
With a near-capacity crowd watching on at the Etihad, Gayle walked in to a mixed reception – there were a fair few boos and a bit of cheer as well – and the West Indian took his time to settle in, scoring only five runs from his first 12 balls.
Then Melbourne Stars captain David Hussey brought in the leg-spinner Adam Zampa, and Gayle brought out that long handle, smashing a couple of big sixes to get going. However, his momentum came to a halt soon after, with Marcus Stoinis getting a bouncer in which Gayle could only pull to wide long-on.
Gayle scored 21 from 21 balls, leaving the Melbourne Renegades in a spot of bother in a match they really need to win to stay in contention for a playoff place in the BBL.
As the big man was wielding his blade at the Etihad Stadium, the Sydney Morning Herald published a story confirming the West Indies management was aware of inappropriate behaviour from their players during the World Cup last year.
While the email published by SMH did not contain the name of any player in particular, Richie Richardson, the team manager for the West Indies at the World Cup, was clearly aware that something was wrong. "In the past few days, **** **** has encountered a few uncomfortable situations with members of the team. Please, at all times, treat her in a professional and respectable way," the email read.
An unnamed woman came forward, revealing Gayle had exposed himself to her while she walked into the dressing room. Gayle vehemently denied the claims, with his management starting legal proceedings against Fairfax Media, who published the report.