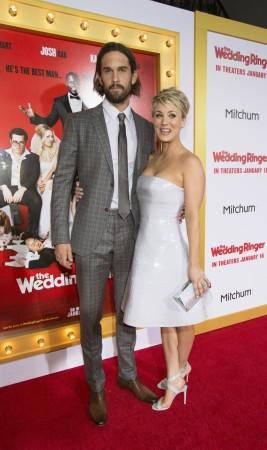 "The Big Bang Theory" actress Kaley Cuoco is reportedly still fighting the fear of a fragile relationship with husband Ryan Sweeting. Rumour has it that Cuoco is finding it hard to trust Ryan anymore and that the two of them have even started to dislike each other.
While Kaley continues to slam divorce rumours, reports state that all is not well between the actress and her professional tennis player husband and the couple could still be facing serious marital problems.
Though the couple tries to make their relationship look perfect during public appearances, sources have told OK! Magazine that "The Big Bang Theory" actress fears that Ryan could be cheating on her and hence, that she never lets him out of her sight.
"Kaley is really paranoid...she doesn't let him out of her sight. She always asks Ryan who he's with and never knows what he's doing. She'd flip if he didn't answer his phone. And it drives him crazy," a source said.
The source further claimed that everything is not as perfect as it looks like because Kaley is now questioning Ryan's honesty and faithfulness towards the relationship.
"Cuoco is secretly worried she doesn't know him that well," the source added.
After being together for just six months, Kaley Cuoco and Ryan Sweeting got married in December 2013. But they began battling divorce rumours since early this year.
Well, we just hope these are just rumours and all is indeed well between Kaley Cuoco and Ryan Sweeting, just as the "8 Simple Rules" actress maintains.