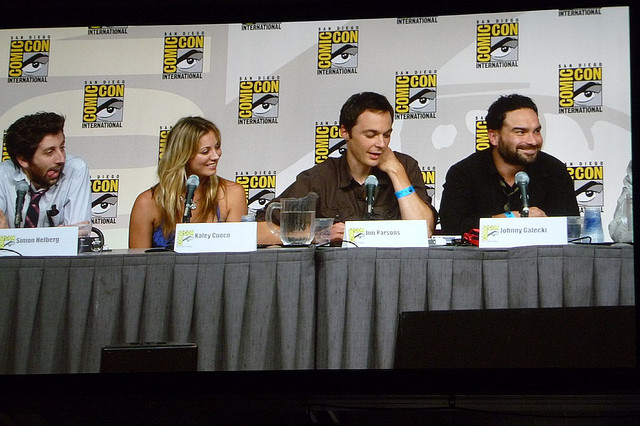 "The Big Bang Theory" is on a break for a few weeks and the 13th episode of the season will not air until 29 January. But when the season returns for its short break, viewers are in for a treat, as they will witness more gems from Sheldon, the character essayed by Jim Parsons.
The 13th episode is titled "The Anxiety Optimization" and it will see the gang helping out Sheldon by increasing his stress levels. As per the synopsis of the episode, "When Sheldon becomes stuck in a rut with his work, the gang tries to help him by raising his stress levels. Howard (Simon Helberg) teases Raj (Kunal Nayyar) with a new game called 'Cinnamon or Emily'."
The 14th episode is going to see Stuart finally reopening the comic book store that was burned down in the season 7 finale. As "Big Bang Theory" fans know, Stuart moved in with Mrs. Wolowitz immediately after that, which did not go down well with Howard, who felt Stuart was coming in between him and his mother.
But in "The Comic Book Store Regeneration" Howard will receive a shocking news that his mother has passed away. This episode will be a tribute to Carol Ann Susi, who voiced the character of Mrs Wolowitz until her death in November last year.
As per "The Big Bang Theory" wiki, the episode synopsis reads: "Amy is helping Barry Kripke and doing experiments on her friends. Stuart reopens his comic book store, while Howard gets the news of the death of his mother."
Mrs. Wolowitz passes away while visiting Florida, and Sheldon will be a source of support for Howard through these trying times. When the gang goes over to console Howard, everyone expects Sheldon to say something inappropriate. Instead, he comments: "When my father died, I didn't have any friends to help me through it. But you do."
"It took us a couple of months to deal with that; we didn't know how to at first...We thought we handled it in a delicate and respectful way. We lost somebody in our family; it's not something you anticipate happening," USA Today quoted executive producer Chuck Lorre as describing the episode.