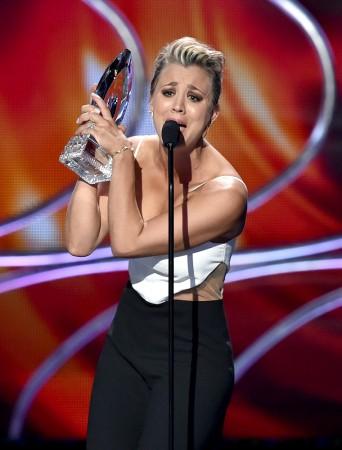 "The Big Bang Theory" star Kaley Cuoco forgets to thank her husband Ryan Sweeting while receiving the People's Choice Awards 2015 for Favourite Comedic TV Actress.
Onscreen Penny thanked everyone, including her parents, fans, show creators Bill Prady and Chuck Lorre as well as executive producer Steven Molaro, but failed to mention Ryan's name on stage.
Meanwhile, Johnny Galecki took the opportunity to thank Ryan on behalf of his ex-girlfriend when he was on stage along with other co-stars to receive the Favorite Network TV Comedy award for "The Big Bang Theory".
"I'd like to take a brief moment, because Kaley forgot during her speech to thank her husband, Ryan. You are my heart, and I can't imagine what I'd be without you," he said. Cuoco appreciated the efforts of her onscreen boyfriend by patting him on his back.
On a serious note, Galecki also thanked the fans of CBS drama for their support that helped them to top the list of People Choice Awards for four consecutive years.
The celeb also mentioned that he would like to share the honour with all the crew members of the show, "who work long and hard and too often, and receive too little credit".
Galecki even assured that the team members of "The Big Bang Theory" will continue to give their best performance in the series.
"From the bottom of our hearts, thank you very, very much. Peace, love and speech, good night!," the celeb concluded his speech.
The CBS hit show was also recognized as Favourite TV Show on the night of People Choice Awards 2015.
Here are the videos of Cuoco and Galecki on stage: