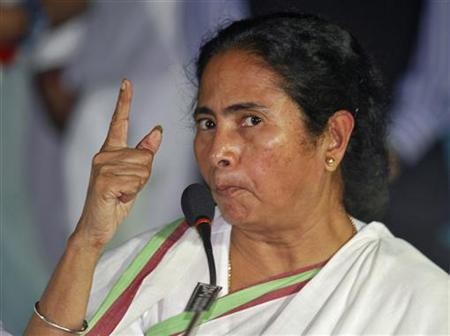 The Trinamool Congress (TMC) would hold a two-day demonstration at the Jantar Mantar in Delhi on Monday and Tuesday against the "big bang reforms" that the Centre introduced in September, IBN Live reported.
The reforms included allowing more foreign direct investment (FDI) in multi-brand retail, a hike in diesel prices and a cap on subsidised cooking gas among others. TMC president Mamata Banerjee withdrew support to the ruling UPA in wake of the new measures, which the government hoped give a boost to the frail economy.
In a bid to consolidate support for a no-confidence motion against the UPA, Banerjee reportedly approached the Leader of the Opposition in the Lok Sabha, Sushma Swaraj, on Sunday.
"Mamata Banerjee has approached Sushma Swaraj," senior BJP leader Murli Manohar Joshi told Press Trust of India. "When Swaraj is back from Mumbai after Bal Thackeray's funeral, we will sit and discuss the issue."
Opposition parties like the Left and the BJP seemed to show uncertainty with Banerjee's plan to push for a vote against the government in the Winter Session of Parliament.
"TMC doesn't have the numbers and will depend on other parties' support. Despite that if the TMC leadership decides to go ahead, they should be prepared for whatever the consequences may be," said Joshi.
Banerjee requires the support of at least 50 MPs to move a no-confidence motion. Her party currently has 19 MPs in the Lok Sabha.
Seeing the numbers, the Congress is also confident that the TMC will not be a threat to the UPA.
"Mamata Banerjee will find that if she brings no confidence motion, she will be defeated with a resounding majority," said Congress member and Union minister Jayanthi Natarajan.