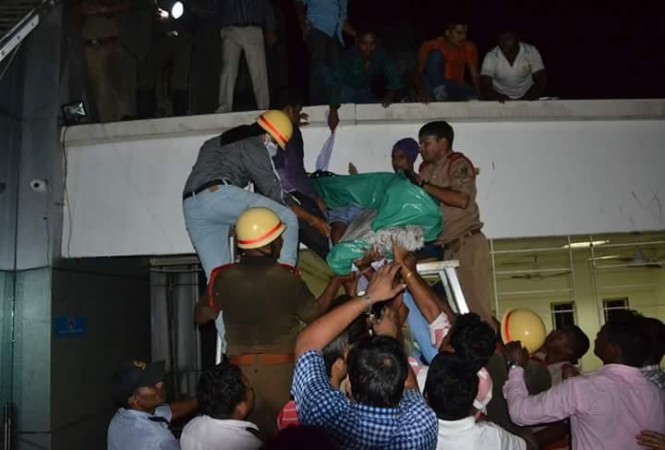 The police on Monday night arrested medical superintendent Pusparaj Samantasinghar and three other officials of the Institute of Medical Sciences and SUM Hospital, where a deadly blaze had claimed 22 lives earlier in the day. Amid all the gloom, stories of bravery shown by the medical staff at the hospital who risked their own lives to save some babies emerged.
The four arrested -- former executive engineer Amulya Kumar Sahu responsible for electrical maintenance, fire safety officer Santosh Das and retired junior engineer Malay Kumar Sahu, also responsible for electrical maintenance -- have been charged with criminal negligence, including culpable homicide, culpable homicide not amounting to murder, and negligence with regard to fire safety, said local sources.
It has now emerged that the Odisha Human Rights Commission has registered a suo motu case over the fire mishap -- which has left more than 100 people injured -- and asked state Health Secretary Arti Ahuja and Fire Service Director General Binay Behera to submit a report within three weeks.
Children saved
It has now emerged that the number of casualties would have been higher, had it not been for the bravery of a doctor and nurse working at the hospital, who saved the lives of four babies. According to the Times of India, a woman named Kabita had her infant admitted to the hospital, and he had been shifted to the intensive care unit (ICU).
Kabita was out of the hospital around 7 pm on Monday when her mother, Sukanti, spotted smoke coming into the ICU. As she was alerting the hospital staff, there was an announcement for evacuation of the hospital with the acknowledgement that there was indeed a blaze taking place, and on the second floor, where the ICU was.
Sources told the publication that a doctor and the nurse on the floor -- who are yet to be identified by name -- broke the glass of the ICU, retrieved the babies and handed them over to their parents before all of them made their way out of the hospital.