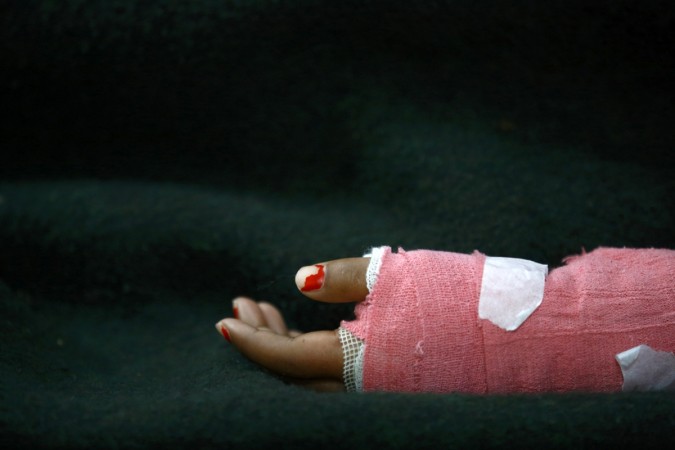 A 47-year-old married man, who had been stalking a gym instructor for almost an year in Bhopal, threw acid on her and allegedly stabbed himself to death minutes later.
The 21-year-old victim, identified as Renu Sahu, sustained 50% burn injuries and is undergoing treatment at a hospital.
The incident occurred on Friday morning when Renu was on her way to the gym. She noticed Sanjay Patil, standing at a nearby petro pump. On realising that Patil was stalking her again, Renu went to the Ashoka Garden police station to file a complaint against him, but was asked to approach the Bajaria police station.
"I decided to go to Bajaria police station as I was fed up with the constant harassment by him. Patil, who was on a bike accompanied by another person, intercepted me and threw acid on me from a bottle. I fell down and became unconscious for a while," Hindustan Times quoted Renu as saying.
"When I regained consciousness, I saw people around me. I called up my mother but when there was no reply I called up my gym manager and informed him. He came and took me to the hospital," she said.
Passerby, who witnessed the incident, thrashed Patil, who later allegedly stabbed himself to death. However, superintendent of police Arvind Saxena said that it was not clear whether Patil committed suicide or was stabbed by someone else.
"It is yet to be ascertained whether the accused stabbed himself or he was stabbed by someone else," Saxena told HT.
Police inaction alleged
Renu's mother Mamta Sahu alleged police inaction, citing various instances when she and her daughter approached the police, but in vain. The first such complaint was lodged on 17 May.
"He had been harassing my daughter for almost a year and I do not why. Recently, he beat up my daughter in my house. We had lodged a complaint at the Bajaria police station, but the police didn't take any action," Mamta said.
Again on 20 May, Renu had lodged a complaint at Aishbagh police station after Patil created ruckus at the gym she works at, but the police did nothing about it.
Saxena said that they have initiated an investigation against the police who refused to take action on the complaints filed by Renu and her mother, and assured that strict action will be taken against those proven guilty.