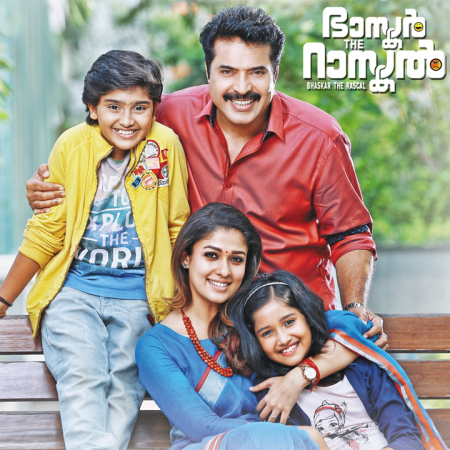 After the long wait, Mammootty-Nayanthara starrer "Bhaskar The Rascal" has hit the screens on 15 April. The movie, directed by hit-maker Siddhique, has garnered positive reviews from the critics.
The film is reviewed as a good comedy entertainer by most of the critics and Mammootty is said to have displayed his character with ample heroism and comic timing. Meanwhile, Nayanthara has reportedly handled the character in a commendable way with maturity.
The story of the movie revolves around the character of Bhaskar (Mammootty), who is a widower and has a son (Sanoop Santhosh). He is nicknamed Rascal by many as he is known for getting into fights whenever he spots any injustice.
[Click Here to See Photos of 'Bhaskar The Rascal']
In one of their vacations, they come across Hima (Nayanathara) and her daughter (Anika Surendran). Hima is a widower and runs her own business. The rest of the movie dealt with the relationship between the duo.
Actor JD Jakaravarthy is also appreciated for his role as Hima's ex-husband.
The movie also has a star cast that accentuates the comic element of the film. The cast includes Janradhanan, Harishree Ashokan, Saju Navodaya, Kabhavan Shajon and Renji Panicker.
Below are the reviews on 'Bhaskar The Rascal' by various critics.
More than just a laugh riot, the movie provides a full time entertainment; ensuring the trust in Mammootty – Siddique combination; as the duo are joining after delivering ever time hits Hitler and Chronic Bachelor.
Siddique, once again proved to be the right man to call as the hitmaker; giving a perfectly executed comedy flick which ensures all time entertainment to the audience.
His brilliance in extracting an actor in perfect manner provides Bhaskar The Rascal as a festive film; which suits all type of film lovers; especially family audiences.
As usual Mammootty plays a wonderful drama. Nayanthara looks beautiful and has equal space to present her character. Director Siddique adds so many interesting incidents. That carries the screenplay throughout the film. Cinematography is so good. It's worth to watch the movie in theater.
Comedy department was handled by Harisree Asokan, Kalabhavan Shajon and Saju Navodaya. Among the trio, it was Saju who outshone his more experienced colleagues. Janardhanan as Bhaskar's father supported and made sure his part looked okay on screen. Bollywood actor Chakravarthy made sure he did justice to his billing as an actor of talent.
The movie appealed well visually, thanks to good cinematography. Edits were nice. Background score and music is by Deepak Dev and they were good. I Love You Mummy song that is getting allegation that it has been ripped off from an Arabic Album was nice to hear and the visuals of the song had a feel good factor to it.