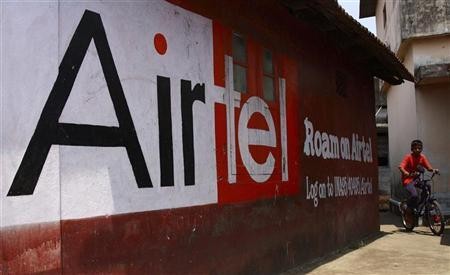 Bharti Airtel on Wednesday reported a 37 percent slump in quarterly profits, making it the tenth quarter in a row that the telecom major registered a profit decline amid prevailing competition despite outperforming smaller rivals in the subscriber market.
The company's consolidated net profit plunged to ₹7.62 billion for its April-June quarter, much lower than analysts' estimate of ₹12.17 billion, according to Thomson Reuters I/B/E/S. In the same period last year, Bharti Airtel reported ₹12.15 in net profit.
"Telecom revenues in India have been depressed due to hyper-competition and recent regulatory and tax developments. Despite these adverse developments, Airtel has kept its focus on network expansion, market investments, superior customer experience and new product innovations," Bharti Airtel Chairman and Managing Director Sunil Bharti Mittal said.
Consolidated revenues in the quarter were at ₹193.5 billion, up 14 percent from ₹169.75 billion in the same quarter last year. The surge in total revenues was driven by strong operational performance and currency movement in Africa giving 31.5 percent growth and mobile data revenues from India totaling to 44.2 percent increase.
"India data pick-up is accelerating with over 38 million customers and mobile data revenues up 44%. On the African side, we are gaining market share, benefitting from the significant investments made in the last two years," Mittal said.
Keeping in mind the global market's current economic and currency conditions, marked by the eurozone crisis, inflation and other economic factors, the company has expanded market and network operations, advertising and other initiatives.
Besides the intensified operations, Bharti has significantly gained customers over all other rivals in the quarter ending June. The company added a little over 2 million subscribers in April alone.
Bharti, which didn't come under the Supreme Court's order to have licenses revoked following the 2008 pricing spectrum scandal, is expected to benefit from the mobile airwaves auction in November. Top rival Vodafone, which was also unaffected by the court order, is also expected to buy a more airwaves at the auction.
At 09.45 am, Bharti stock went down nearly 3 percent at ₹285.80 on the BSE.
(With inputs from Reuters)