Superstar Mahesh Babu is playing the Chief Minister of Andhra Pradesh in director Koratala Siva's Bharath Ane Nenu (BAN/MB24). The audio featuring him taking the first oath has been released on January 26.
DVV Dhanayya is bankrolling Bharath Ane Nenu under his banner DVV Entertainment and he recently revealed that Mahesh Babu would take his first oath on the Republic Day. He tweeted on January 15, "Superstar Mahesh Babu's #MB24, directed by Siva Koratala, will take the First Oath this Republic Day! #MB24FirstOathOn26Jan."
On January 23, the producer confirmed the time of its launch. A tweet on DVV Entertainments read, "Title Launch of #SSMB24 on January 26th at 7 AM. Keep your Headphones Ready!"
As promised, Mahesh Babu released the audio of his first oath on his Facebook page and wrote, "Here you go. Bharath takes his First Oath!" Later, the audio was also released on other digital platforms like Hungama, Gaana and Wynk.
In this audio, Mahesh Babu, who plays Bharat in Bharat Ane Nenu, takes the oath with confidence and the film goers can feel the deliberate high pitched tone. It will not only impress the viewers, but also raises their curiosity. The audio has started going viral and trending on the social media.
Devi Sri Prasad tweeted, "#BharathAneNenu ..4 best experience, pls wear earphones, close ur eyes and enjoy d dynamic voice of our BHARATH @urstrulyMahesh sir taking his 1st OATH !! U wil experience a different dimension of d whole thing with a huge visual in ur mind! @sivakoratala."
Bharat Ane Nenu is a political thriller, which is written by Koratala Siva. Mahesh Babu is seen playing a political leader for the first time in his career. The director the audio of the oath is a tribute to all the leaders, Koratala Siva tweeted, "Paying tributes to all the leaders who really lived by this oath. #BharathAneNenu #IndianRepublicDay."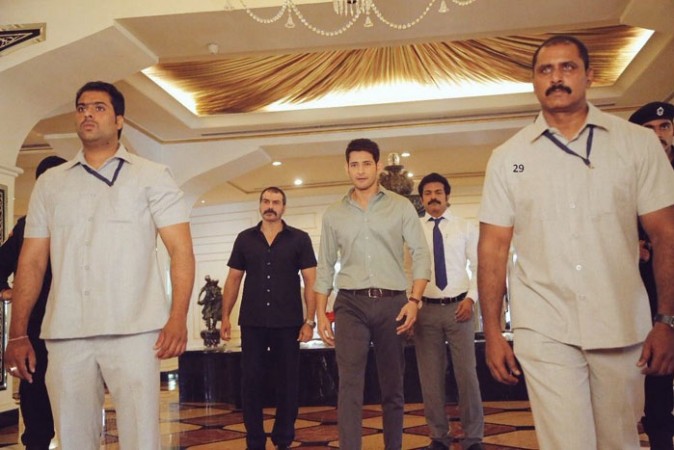 Having released the oath audio, the producer announced to launch the title logo at 8.00 am. Later, he released the logo and wrote, "Presenting the logo of #BharathAneNenu."
Presenting the logo of #BharathAneNenupic.twitter.com/eXMKVtDqry

— #BharathAneNenu (@DVVEnts) January 26, 2018
Koratala Siva announced that there was another surprise for fans. The director tweeted, "One more big thing of our #BharathAneNenu at 9am. Stay tuned." Later, he unleashed the first look poster featuring Mahesh Babu.
Mahesh Babu and Bollywood actress Kiara Advani are playing the lead roles in Bharat Ane Nenu, which features Prakash Raj, Rao Ramesh, Sarath Kumar, Posani Krishna Murali and Devaraj in the supporting cast. Devi Sri Prasad is composing music for the film and Tirru and Ravi K Chandran are handling the camera.
Bharat Ane Nenu is scheduled to for grand worldwide release on April 27. The makers have kickstarted its publicity with the launch of its logo and oath audio. They have planned to adapt several unique promotion strategies to make this movie a blockbuster success at the box office.