Protesting against the central government's alleged ignorance to the workers in the country, 10 trade unions across India called for a 48-hour Bharat Bandh which started at midnight on January 8.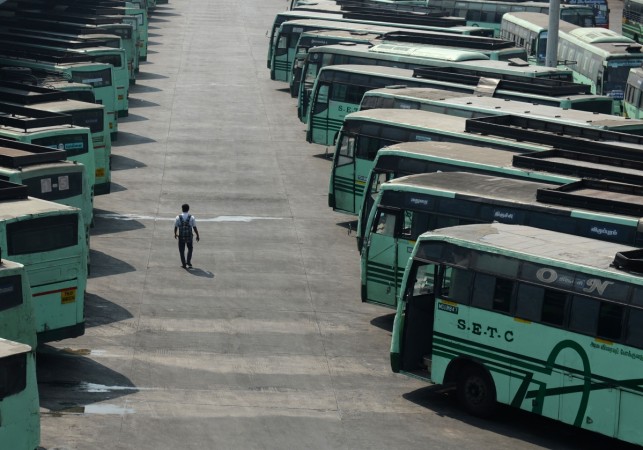 Over 20 crore workers affiliated with the 10 trade unions are participating in the strike calling out what they feel are 'Anti-labour policies of the Modi government'.
"This is the largest number of workers from formal and informal sectors joining the strike against anti-people and anti-worker policies of the BJP-led central government," All India Trade Union Congress' general secretary Amarjeet Kaur was quoted as saying by Times Now.
Many schools and colleges have been shut due to the bandh and public transport have also come to a halt except Bengaluru's metro (Namma Metro) which will function normally.
AICCTU protest for minimum wages and social security in Delhi
The All India Central Council of Trade Unions (AICCTU) are protesting in Delhi calling out the Central government for making government businesses private. They are also demanding minimum wages and social security.
Delhi: All India United Democratic Front (AIUDF) chief Badruddin Ajmal and All India Trinamool Congress (TMC) MPs protest against the Citizenship Amendment Bill, 2016 in the Parliament premises. pic.twitter.com/EGXVq78lxJ

— ANI (@ANI) January 8, 2019
Bus services put on halt in Mumbai
The bus services came to a standstill after its employees went on an indefinite strike to participate in the bandh.
They the BEST(Brihanmumbai Electricity Supply&Transport) employees are demanding a merger of the BEST budget along with the budget of the BMC, as well as residences for worker, reports ANI.
Mumbai: Bus services affected at the CSMT due to the indefinite strike by BEST(Brihanmumbai Electricity Supply&Transport) over demands of implementation of the merger of the BEST budget with principal budget of the BMC, employee service residences etc. pic.twitter.com/SXlTfiZDeB

— ANI (@ANI) January 8, 2019
Violence in West Bengal
West Bengal reported violence in some districts. Kolkata, Asansol and Hooghly saw clashes between workers of the Trinamool Congress and the CPI. The incident required police intervention and the protesters had to be lathi-charged.
The West Bengal chief minister had earlier said that her government are opposing the bandh.
A bus was set on fire in Barasat, a district in West Bengal.
West Bengal: Clash between TMC and CPM workers in Asansol during 48-hour nationwide strike called by Central Trade Unions demanding minimum wages, social security schemes & against privatisation of public and government sector. pic.twitter.com/5oM6TWxnx7

— ANI (@ANI) January 8, 2019
Farmers expected to join strike
Farmers across the country will soon be joining the protests against the Central government's anti-labour policies .
They will participate in roadblocks, demonstrations and protest meetings.
Kerala roads shows no sign of life after announcement of bandh
Kerala remains most affected by the bandh after the roads remain deserted and public transport is nowhere to be seen.
Strike impacts left-dominated states
Kerala and West Bengal are most likely to be affected by the Bharat Bandh.
However, West Bengal chief minister Mamata Banerjee opposed the bandh. "I do not want to spend a single word on this. In West Bengal, we have taken a stand of not supporting any bandh. Enough is enough. In the last 34 years, they (Left Front) have destroyed the state by calling a bandh. There will be no bandh," Banerjee was quoted as saying by The Quint.
The West Bengal government took an extra step by saying that its employees would not be allowed to avail casual or half day leave on Tuesday or Wednesday.