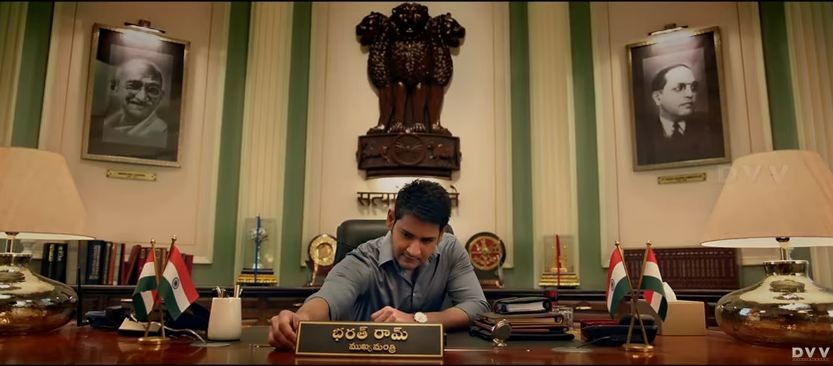 The Vision of Bharat — the teaser of Koratala Siva's Bharat Ane Nenu (BAN), starring Mahesh Babu — has got rave reviews from Tollywood celebs, who say they can't wait for the release of the movie.
Bharat Ane Nenu is one of the most-talked-about Telugu films of 2018, and millions of fans including some celebs had been desperately waiting to see its trailer. The makers of the film released its first-look video, titled Vision of Bharat, on the internet on Tuesday. The teaser of Mahesh Babu's new movie has been successful in impressing everyone.
Many celebs who watched the teaser of Bharat Ane Nenu were bowled over by Mahesh Babu's role and dialogue delivery. Some of them took to Twitter to share their excitement over the movie. They described the teaser as terrific and said the film was going to be content-driven. Here are some of their comments from Twitter.
Sai Dharam Tej: Bharath's PROMISE is very intense and intriguing #TheVisionOfBharat
Sudheer Babu: I know it's tough to resist when mahesh is on your screen but just close your eyes and listen to it, his voice is mesmerising....very inspiring teaser Ela vundhi ante inka cinema!!!! #TheVisionOfBharat #BharatAneNenu
Director Bobby aka KS Ravindra: "If you don't keep up your promise, you're not called a man." This line says it all. A promising teaser from @sivakoratala garu with uber cool visuals and perfect BGM from @ThisIsDSP. Superstar @urstrulyMahesh garu looks so elegant as Bharath. Waiting for it. ATB to the team.
Madhura Sreedhar Reddy: We are living in a society! ప్రతీ ఒక్కళ్ళకి భయం బాధ్యత ఉండాలి....!!! Kickass teaser on #TheVisionOfBharat! #BharatAneNenu. Thank you @sivakoratala & @urstrulyMahesh
Kona Venkat: #TheVisionOfBharat ... A perfect blend of style, emotion and action!! I loved the vision of @sivakoratala and @urstrulyMahesh is superb in every frame... Blockbuster written all over Once again shiva made every writer proud
Gunasekhar: Yes ! It is promising
Anil Sunkara: IT'SA MANLY PROMISE. BHARATH RAM will promise our fans and telugu film lovers a most cherished movie on April 20th. It will be worth the wait for past 2 years. Thanks @sivakoratala and @DVVEnts for this vision.
Gopi Mohan: #BharatAneNenu Teaser Adhirindhi. @urstrulyMahesh appearance super. Superstar fans yelaa choodalanukuntunnaaro alaa present chesaru @sivakoratala .Visuals & R.R baagunnaayi. Bharat "PROMISE" ani anna vidhaanam highlight. Will wait for the film :)
Maruthi dasari: #TheVisionOfBharat is vry impressive All the best to @urstrulyMahesh garu @sivakoratala garu & team, Waiting for the film
Brahmaji: Brahmaji ane nenu.. I promise.. idi teaser maatrame.. 20th na "Vispotanam" #VisionOfBharat
Harish Shankar: Prati okkariki Bhayam Baadhyata undaali @urstrulyMahesh Excels in each and every frame all the best to @sivakoratala and team
Ramajogaiah Sastry: గగురుపాటు...నిఖార్సైన నిజాయితీకి నిలువెత్తు ప్రతిరూపం..గొంతువిప్పితే ఇట్టాగే ఉంటది...yes..he z a MAN of actions..cant wait apr 20th
Anil Ravipudi: #BharathAneNenu..wahhh..superb.. goosebumps #promise..gattiga kodathru...all the best @urstrulyMahesh Garu nd @sivakoratala Garu..nd team
BA Raju: "We Are Living In A Society.... ప్రతి ఒక్కళ్ళకీ భయం, భాద్యత ఉండాలి " Superstar @urstrulyMahesh as Chief Minister Bharat Raam is Taking Charge This Summer
Gopichand Malineni: PROMISEEEE!!!.. It's Very Promising .. @urstrulyMahesh @sivakoratala #TheVisionOfBharat
Vamshi Paidipally: #TheVisionOfBharat.... This Vision is a PROMISE made by @urstrulyMahesh & @sivakoratala for yet an other Blockbuster... Stunning Visuals,Dialogues & Superb score by @ThisIsDSP... Cant wait to watch it.. :)
Vennela Kishore: Superstar taking charge #TheVisionofBharat
Pradeep Machiraju: SUPERSTAR Super teaserfantastic visuals nd dialogues @urstrulyMahesh sir Awesome @sivakoratala @ThisIsDSP #TheVisionofBharat