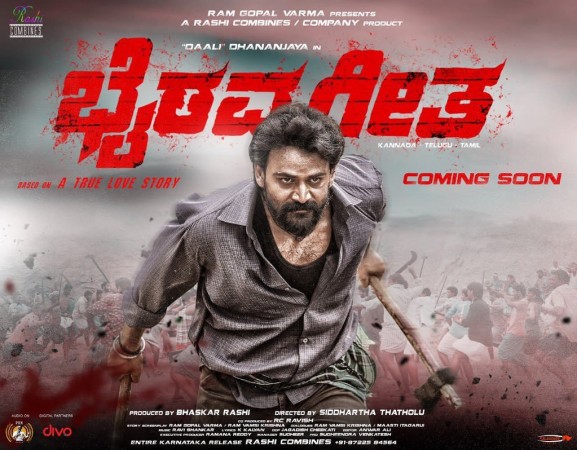 After winning hearts with his villainous role in Tagaru, Dhananjaya is back with Bhairava Geetha, a bilingual which is simultaneously being made in Kannada and Telugu. He was handpicked by maverick filmmaker Ram Gopal Varma, who has funded the project, directed by debutant Siddhartha Thatholu.
Dhananjaya is eagerly awaiting the release of Bhairava Geetha, which hits screens on Friday, 7 December. "So far, it has garnered good pre-talk and we have been getting positive feedback even during the shooting of the film. I still remember people cheering me up by blowing whistles when I did some intense scenes in Kadapa," the actor recalls.
According to the 32-year old, the role in Bhairava Geetha came to him as a surprise. "It is an unexpected project. After watching Tagaru, Ram Gopal Varma told me that 'let's work in a film in future' and I did not expect that I would be working in his movie so soon. It is always a great feeling to know that someone offers you a movie based on the performance of your previous film," Dhananjaya says.
Dhananjaya added that he does not have language barriers and he has good exposure to Telugu cinema. "I was not fluent in the language. As it is an intense character, I sat with the writer to understand my role and the language better. In a matter of two days, I was able to deliver lengthy dialogues. I think having good control over one language helps you to understand and learn other languages, easily," he points out.
The actor states that it is not a story about an individual, but represents the oppressed class. "Be it in history or mythology, you will find such characters, the ones who are neglected in the society. Many movies have come on the similar lines. There has always been a battle between the power and powerless. I belong to a labour class and there is love story that motivates my character to fight," he adds.
Dhananjaya says that he did not hit the gym or did special workouts to get into shape for this role. "In Tagaru, I was seen in an intense character with a negative shade, here it is an intensive character with positive shade," the actor tells.
Bhairava Geetha, which has Irra Mor playing the female lead, is releasing in Karnataka in over 150 screens. In Andhra and Telangana, the film will release a week later.