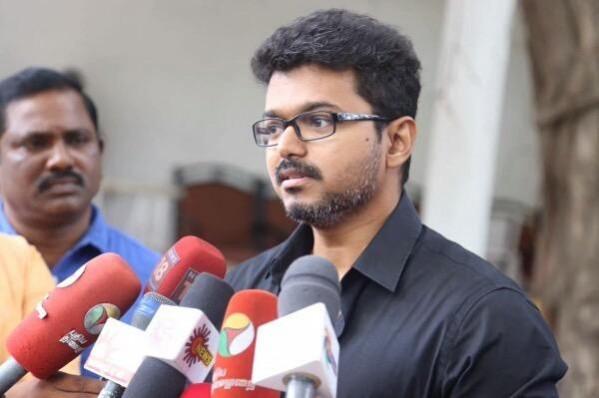 Bhairava actor Vijay says the ban on notes of Rs 500 and Rs 1,000 denomination is a good move by Prime Minister Narendra Modi, but it could have had a better impact if it was planned well.
Ilayathalapathy Vijay is currently busy with the post-production work of his 60th movie, Bhairava, at AVM Studios in Chennai. The actor spoke about the ban on the high denomination notes and its after-effects, when quizzed by the media on the issue on Tuesday morning, and welcomed the move of the central government.
Here is what the Kaththi star said about the whole issue:
"Central Govt's move is really good and it will help the growth of Indian economy. This policy is much-needed for the country. There is no doubt that it was meant for the welfare of the country. Since this is a big move, it has surely got several problems, but the implementation should not increase problems further.
"Poor people are not able to buy food and medicine. People, who have gone out on some work, are not able reach home back, as they are not able to access ATMs. I feel bad to hear that people, who are working for daily wages, and people in malls and markets are finding it difficult to manage their livelihood. I watched news and learned that an old woman gathered money for her daughter's wedding, but decided to commit suicide, when she could not convert that money. A newborn baby died at a hospital, when their parents could not afford treatment. Situations like this could have been avoided if the policy was well planned.
"The country has 20 percent rich people, while remaining 80 percent are poor. This policy is meant to punish the rich ones, but it is creating problems for the 80 percent people. I am telling you repeatedly this is really a bold move, which has not been implemented in the past. This is not meant to create problem to anyone.
"It could have been a brilliant move, if the government had done proper homework on the problems created by this policy and found solution for it. This is my personal opinion about the move. There was panic in public for a couple of days after the announcement of the policy, but things settled down in the following days. It would be good, if the government takes immediate actions on the problems faced by senior citizens and poor people in rural areas."