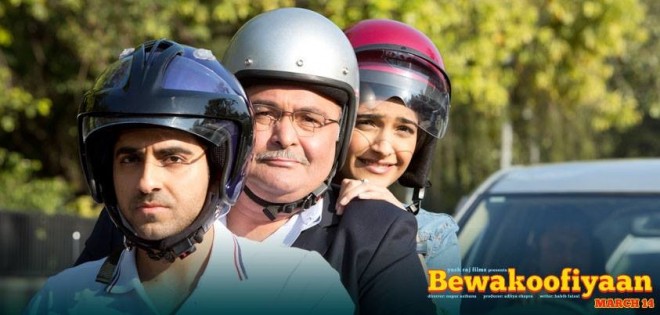 "Bewakoofiyaan", starring Rishi Kapoor, Ayushmann Khurrana and Sonam Kapoor, is a romantic comedy produced under the Yash Raj Banner.
The film has received mixed reviews from critics on its release for the storyline. According to critics, the film is relying high on Rishi and Khurrana's performance.
Khurrana and Sonam managed to impress the critics but it's veteran Rishi who stole the spotlight.
The film is directed by Nupur Asthana and written by Habib Faisal.
Read the reviews here:
Shubhra Gupta of The Indian Express said: "Neither Rishi Kapoor nor the couple- of-films-old Ayushmann Khurrana manage to lift off the screen: they are as flat as the film.
"This plot point could have led the film into exploring the tricky terrain of joblessness, gender expectations, and rocky relationships.
"Sonam is one of the few Bollywood denizens who wears her clothes beautifully, and doesn't let them wear her. Her elegantly-assembled outfits are a joy. But acting is a whole different thing."
Saibal Chatterje of NDTV said: "Bewakoofiyaan is a genteel, slice-of-life love story that runs with one of the oldest of the standard devices of the genre - strong parental opposition to a proposed marital liaison, with money, or rather the lack of it, playing a big part.
"But the film does not turn either overly nonsensical or sickly sweet in an ill-advised pursuit of comic effect and cutesy twists. The drama is easy flowing and the romantic track believable.
"Though both Rishi Kapoor and Ayushmann Khurrana play their parts to perfection, it is Sonam Kapoor who scripts the film's brighter spots.
"But director Nupur Asthana keeps the film short and sweet, and Habib Faisal's screenplay is smart enough not to try and dribble into the terrain of by-the-numbers comedy.
"Bewakoofiyaan scores with its disarming simplicity. Even as it doesn't soar to dizzying heights, it is never less than watchable."
Taran Adarsh of Bollywood Hungama said: "BEWAKOOFIYAAN brings back memories of Anubhav Sinha's AAPKO PEHLE BHI KAHIN DEKHA HAI and Rahul Dholakia's KEHTAA HAI DIL BAAR BAAR, besides FATHER OF THE BRIDE and MEET THE PARENTS, of course. Having said that, Nupur and Habib pepper the plot with some cleverly penned sequences, but stray episodes apart, the writing maintains a strong grip from commencement to conclusion [the run time -- less than 2 hours -- makes sure the film never overstays its welcome]. Also, the writer slips the after-effects of recession smartly in the proceedings, without deviating from the core issue, that of a love story.
"It won't be erroneous to state that BEWAKOOFIYAAN makes a genuine attempt to entertain beyond tested flavours and it succeeds in evoking genuine laughs at regular intervals. Also, Nupur and Habib invest heavily into the characters and the screenplay to keep the interest alive. Additionally, the film works for two more reasons: Sharp dialogue and spot-on performances by its protagonists.
"The film relies completely on three central characters -- Rishi Kapoor, Ayushmann and Sonam -- and the performances are indeed commendable.
"On the whole, BEWAKOOFIYAAN springs a pleasant surprise. Watch this wonderful slice of life film for the super performances of Rishi, Ayushmann and Sonam, watertight writing, skilled direction and dollops of humor."
Charu Thakur of IBNLive is the tweet review said: "Emotional blackmailing and relationship issues go hand in hand but a funny twist can make it magical. #Bewakoofiyaan
"Nupur Asthana keeps the plot intact in the first half with some funny moments. #Bewakoofiyaan. The pace of the film is too slow in the second half. #Bewakoofiyaan
"If Sonam Kapoor's Aisha did brand promotion for L'Oreal, #Bewakoofiyaan does the same for Zara and Mango. #Bewakoofiyaan is funny in parts and it is Rishi Kapoor's acting which stands out.
"#Bewakoofiyaan is a light hearted comedy. Watch it for Rishi Kapoor and Ayushmann Khurrana."
Mohar Basu of Koimoi.com said: "It took me great patience to like the film and that cannot be a good news for any viewer. Being a Habib Faisal and Nupur Asthana product is the reason why I even gave the film as much window as I did. Was it all worth it? The answer is both affirmative and negative in equal parts. As entertained as you'll be with Rishi Kapoor doing a magnificent job as Myrah's dad, it is the not so mesmeric chemistry that inflicts irreparable harm to the film. Watch it for fun simply. Gauging beyond will disappoint.
"Toppling both the leads is Rishi Kapoor who steals the show with yet another supremely gritty performance. He doesn't miss any hue of playing the retired uptight IAS officer who can't bear his daughter settling with a guy who earns less than her.
"Bewakoofiyaan is a well crafted film that misses the rightful rendering. A meandering screenplay turns it bland and messy but for Rishi Kapoor's catchy role it is worth giving a shot to. For me it was the dilemmas of the film's protagonist and him losing his edginess and confidence due to the sudden loss of job amidst downsizing was the real story. Channelized focus on that and here could have been a breathtaking film."