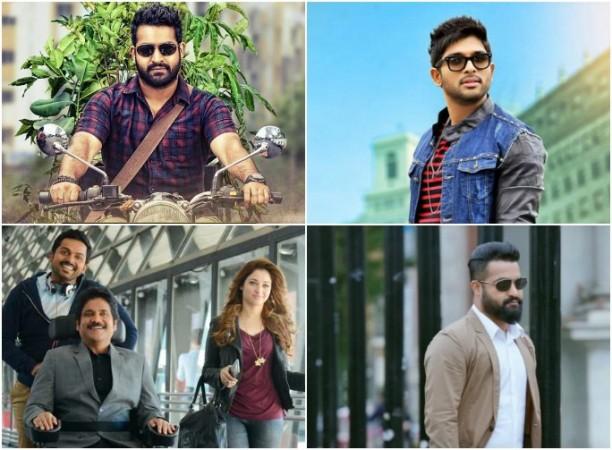 Junior NTR's Janatha Garage has topped the list of top 20 highest-grossing Telugu movies of 2016, while Sarainodu (Sarrainodu), Oopri and Nannaku Prematho landed at the second, third and fourth places, respectively.
Read: Top 10 hottest Telugu item songs of 2016
Nenu Sailaja, the first release of 2016, started the year on a brilliant note and became a hit at the box office. Tollywood released around 47 movies in the first quarter of the year (January to March). Nannaku Prematho, Express Raja and Soggade Chinni Nayana, Kshanam and Oopiri also turned out to be big money-spinners. However, a few most-hyped films like Dictator, Speedunnodu, Garam, Krishnashtami, Kalyana Vaibhogame, Shourya and Seethamma Andalu Ramayya Sitralu failed to live up to the expectations.
Over 40 Telugu films were released in the second quarter (April to June), which happens to be the summer holiday season. But it turned out to be a disastrous season for the industry. Sardaar Gabbar Singh and Brahmotsavam were expected to rewrite the rules of the game at the box office, but they turned to be the biggest disasters of the year.
Check: Telugu celebs, who got married in 2016
This quarter witnessed Sarainodu, A Aa and Bichagadu emerging as blockbusters. Gentleman, Supreme and 24 were the other decent grossers of the quarter, while most-hyped Oka Manasu and Okka Ammayi Thappa ended up to be flops at the box office.
Janatha Garage and Pellichoopulu were the blockbusters of the third quarter of the year, which had around 43 releases. Srirastu Subhamastu, Majnu, Babu Bangaram, Jyo Achyutananda and Nirmala Convent were the decent grossers of the season, while Selfie Raja, Nayaki, Kabali, Jakkanna, Manamantha, Thikka, Chuttalabbai and Aatadukundam Raa failed to leave any mark.
Over 40 Telugu movies have been released in the fourth quarter and another three films are set to hit the screens on the last Friday of the year. Dhruva, Ekkadiki Pothavu Chinnavada and Remo are the decent grossers of the season. Premam, Ism, Jaguar, Naruda Donoruda, Saahasam Swaasaga Saagipo, Bethaludu and Manyam Puli are the average grossing films.
Here is a table detailing the price of distribution rights (DRP), gross collection and distributors' share, and status (hit/flop) of the top 20 highest-grossing Telugu movies of 2016. These numbers are based on reports and they may vary from the actual figures released by their makers.
| | | | | | |
| --- | --- | --- | --- | --- | --- |
| Rank | Movie | DRP | Gross | Share | Status |
| 1 | Janatha Garage | 67.40 | 134.80 | 81.30 | Super Hit |
| 2 | Sarainodu | 53.40 | 127.60 | 76 | Super Hit |
| 3 | Oopri (Tamil/Telugu) | 43.30 | 97.80 | 52.31 | Hit |
| 4 | Nannaku Prematho | 51.50 | 87.20 | 53.20 | average |
| 5 | Sardaar Gabbar Singh | 87.20 | 85.55 | 52.20 | Disaster |
| 6 | Dhruva | 57.50 | 85 | 53 | Average |
| 7 | Soggade Chinni Nayana | 18.50 | 82.46 | 47.60 | Blockbuster |
| 8 | A...Aa | 30.50 | 75.4 | 47.48 | Super hit |
| 9 | Brahmotsavam | 73.40 | 58.35 | 35.47 | Disaster |
| 10 | Babu Bangaram | NA | 46.20 | 27.59 | Average |
| 11 | Supreme | NA | 44.05 | 25 | hit |
| 12 | Bichagadu | 2 | 42.25 | 25.10 | Blockbuster |
| 13 | Nenu Sailaja | NA | 40.10 | 20.70 | Super Hit |
| 14 | Premam | NA | 37.95 | 22.15 | Average |
| 15 | Dictator | 24.90 | 35.70 | 20.60 | Flop |
| 16 | Gentleman | NA | 32.60 | 17.72 | Hit |
| 17 | Majnu | NA | 28.40 | 15.30 | Average |
| 18 | Express Raja | NA | 28.35 | 13.30 | Super Hit |
| 19 | 24 (Telugu Dub) | NA | 27 | 15.40 | Hit |
| 20 | ISM | NA | 25 | 14 | Average |
| 21 | Eedo Rakam Aado Rakam | NA | 24.10 | 12.25 | Hit |
| 22 | Ekkadiki Pothavu Chinnavada | NA | 22 | 12 | Hit |
| 23 | Srirastu Subhamastu | NA | 20.20 | 10.02 | Hit |
| 24 | Pelli choopulu | 2 | 12.50 | 9 | Super Hit |
| 25 | Kshanam | 2 | 12 | 8 | Super Hit |