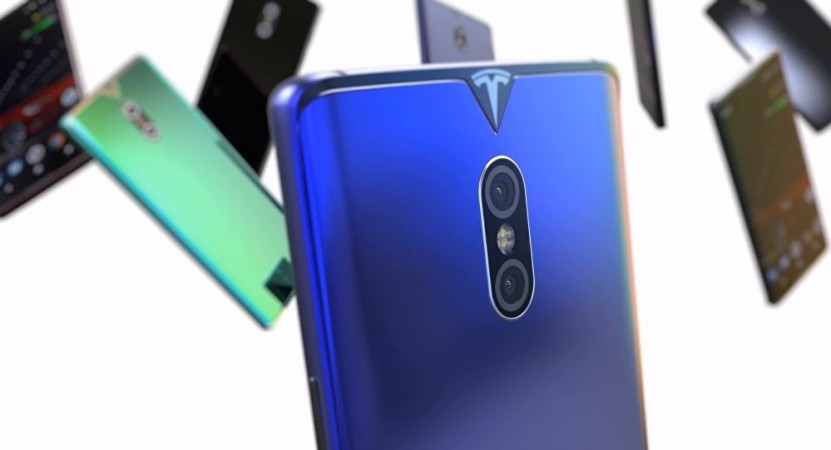 At a time when Tesla's launch of a smartphone powerbank has triggered speculation that the company could foray into the smartphone business, YouTube is greeted with a new concept video of a smartphone that is imagined to be Tesla's first ever handset to hit the market.
The Tesla smartphone concept, which has been developed by the YouTube channel Concept Creator, includes a lot of interesting features like dual rear cameras and a bezel-less display with an aspect ratio of 18:9. The imaginary device also sports a metal frame and curved edges on both sides of the display.
While the phone's side bezels are almost non-existent, the top and bottom bezels also appear to be extremely slim. The front of the device apparently features two speaker grills on both top and bottom of the screen.
The back of the device features Tesla's logo sitting at the top, with a vertically placed dual camera setup placed just under it. While there's a multi-tone LED flash unit between the rear cameras, the phone's back panel also seems to be curved.
The phone features an alert slider on its left, just below the volume rocker. The device also seems to have a USB Type-C port on its bottom and a 3.5mm headphone jack next to the charging port.
The Tesla phone, which appears to be running on Android 8.0 Oreo, has on-screen home and navigation buttons. Since there was no biometric authentication technology featured in the concept video, there is some room to envision a display-mounted fingerprint sensor or a facial recognition feature to unlock the phone.
In addition, the video shows three colour variants of the phone, including black, blue and grey, with each of the models having a different colour version of the Tesla logo.
Take a look...
A lot Internet users, meanwhile, have praised the design of the Tesla concept phone, with some of them describing it as "awesome," "cool looking" and having a "perfect design."
"That Tesla Logo in back feels a Top Quality Design... Seems Unique & Excellent Design than others OEMs," a YouTube user said in the comments section.
"I would be really interested in a Tesla phone for 1 and only reason ... battery life will be out of this world," said another YouTube user.
Tesla CEO Elon Musk may not be planning a smartphone anytime soon, but there is still a possibility that he may eventually decide to launch one at some point in the future.
And, being well-known for his ambitious projects, don't expect Musk to make just another smartphone.