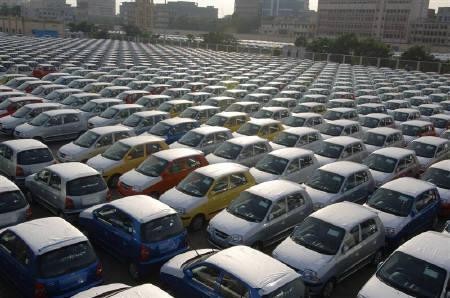 India's best selling small cars, Maruti Alto, Hyundai Grand i10 and the world's cheapest car Tata Nano failed to pass their first independent crash tests, says the London car-safety watchdog Global NCAP.
Global NCAP, an independent charity based in UK that conducts consumer orientated vehicle safety initiatives said that the five popular small cars in the domestic market namely Maruti Alto 800, Tata Nano, Ford Figo, Hyundai i10 and Volkswagen Polo have botched terribly, receiving a zero on a scale of 1-5.
For the test, the entry-level models of the aforementioned made-in-India models were chosen and put trough two tests- the 64kmph test and the UN minimum safety standard crash test at 56kmph. According to Global NCAP, none of the cars managed to pass these tests.
The Ford Figo and Volkswagen Polo were the only two cars that showed structural stability. The structural weaknesses of Maruti Alto 800, Tata Nano and Hyundai i10 showed high risk of life-threatening injuries in road accidents, opined NCAP.
"Poor structural integrity and the absence of airbags are putting the lives of Indian consumers at risk. They have a right to know how safe their vehicles are and to expect the same basic levels of safety as standard as customers in other part of the world," PTI quoted Global NCAP Chairman Max Mosley as saying.
Indian auto makers reacted to the results of the tests differently, though all agree that the safety of the vehicles manufactured should be monitored closely. The latest report of the safety of cars in India is likely to cause pandemonium in the auto market as the small car industry has been witnessing a surge.
India's growing middle class's affinity for small cars and the willingness to compromise safety to keep the vehicles at low price are to be blamed. NCAP estimates that the sales of these five cars, which failed to pass the crash tests contribute to nearly 20 percent of the new cars sold in India.
"All our vehicles, including the Tata Nano meets all Indian safety regulations, including the frontal barrier crash test at 48 kmph, as mandated by the government. All our cars on Indian roads, including the Nano are engineered for safety in view of Indian road and traffic conditions," said Tata Head - Advanced and Product Engineering, Engineering Research Centre, Tim Leverton .
"With our recent introduction of dual front airbags as standard fitment on all variants of the Polo in India, the Polo is now the safest premium-segment hatchback in the country. We believe this demonstrates Volkswagen's commitment to building better, safer cars for the Indian consumers," Volkswagen Passenger Cars, Volkswagen Group Sales India, Managing Director Arvind Saxena added.