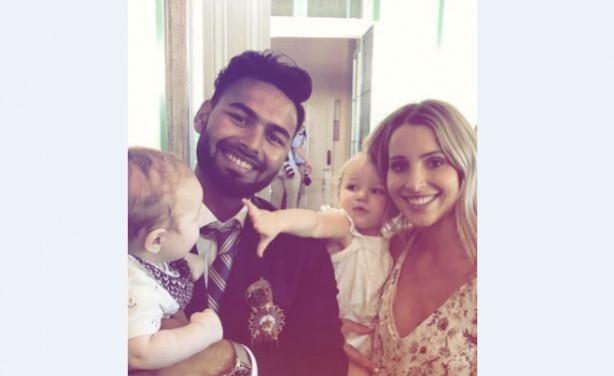 Rishabh Pant has been hailed as the "Best babysitter" by Tim Paine's wife, Bonnie Paine when the players of India and Australia met the Australian Prime Minister at his residence.
Pant has made quite a name for himself in Australia due to his wicket-keeping antics and verbal prowess. In the third Test match at Melbourne, the two wicket-keepers, Pant and Paine had a verbal battle from behind the stumps. The words that were thrown by the two at each other represented sledging at its witty best as the banter was clean and funny.
When Pant had come out to bat in India's second innings with the score at 44-5, Paine asked the Indian to extend his stay in Australia and babysit for him and his wife as he was dropped from the Indian limited overs side.
Pant, not one to take things lying down, replied to Paine when the Australian captain came out to bat in their second innings. The Indian wicketkeeper started speaking to Mayank Agarwal standing at silly mid-off and told him that his Aussie counterpart was a "special guest" and "temporary captain."
It appears now that both the parties have taken the banter lightly and left their differences on the cricket field. During a special gathering at the Australian Prime Minister's residence, Bonnie Paine posted a story on her Instagram with Pant and called him the "Best babysitter."
Even the International Cricket Council's official Twitter handle joined in on the fun and posted the picture saying Pant accepted the challenge of babysitting for the Paine family.
The two sides will meet in the fourth Test match at Sydney beginning from January 3.