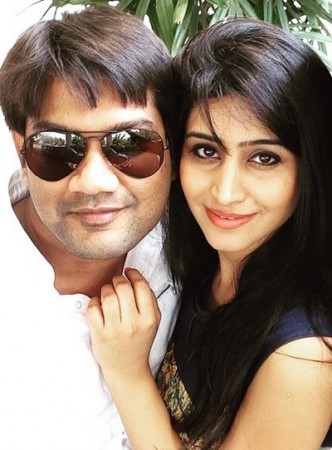 Actress Shamili Sounderajan and director Arun Pawar, who are busy with the shooting of the movie "Best Actors", have expressed their excitement over their engagement and marriage.
Shamili fell in love with filmmaker Arun Pawar after meeting him on the sets of the upcoming film, "Best Actors". The families of the two approved their relationahip just within weeks and they got engaged at a private ceremony in Hyderabad on 10 May.
In an interview to The Times of India, Shamili spoke about her relationship with Arun Pawar. "It was more of an arranged match (laughs). Although I worked with him, we never really got talking much until the last few days. And guess what? My mother, who is always with me, got along quite well with Arun. So, he took the initiative and told my mother that he wants to marry me," she gushed.
After discussing Arun's proposal with the family, Shamili's mother gave a nod to their relationship. "My mother has been my pillar of support all my life. Be it my studies, career or my marriage, I left everything to her to decide. And since she liked Arun, I knew she made the right decision," Shamili told TOI.
Arun Pawar is all excited to tie the knot with Shamili as he thinks she is a perfect match for him. "She was a bit reserved in the beginning, but once I began interacting with her more, I began to love her attitude towards life even more. She was exactly the kind of girl I wanted to marry," the director said, TOI reports.
The director says that he proposed to Shamili after getting her mother's approval. Their wedding is not going to happen anytime soon as the couple wants to focus on their career. "Not anytime soon. We want to focus on our careers for now," Shamili said.
Shamili started her career as a child artist with Mani Ratnam's Tamil film "Rajanadai" in 1989. She won National Film Award and Tamil Nadu State Film Award for Best Child Artist for her performance in her second film, "Anjali". She featured as a child artist in over 35 films in Tamil, Telugu, Kannada, and Malayalam. She became a female lead with Siddharth's "Oye" in 2009.