Bengaluru may be in for a whole deluge of problems as it rapidly expands. The city is slated to come under concrete coverage of 94 percent by 2020, leading to threats of flooding within urban limits intensifying, according to a study by the Indian Institute of Science (IISc), Bengaluru.
The city may have got a glimpse of the future when parts of the city were inundated during the heavy downpours on Independence Day.
And with similar episodes playing out in metro cities like Mumbai, where at least six people have been killed due to torrential rain and subsequent flooding, the IISc study could well be treated as a clarion call to action in Namma Bengaluru.
The IISc study — Frequent Floods in Bangalore: Causes and Remedial Measures — says paved surfaces in the city have increased up to 78 percent due to years of unplanned urbanisation. Researchers have established the extent of concretisation by comparing spatial maps of the city over the years and contrasting them with the ground situation, the Times of India reported.
Prof TV Ramachandra from the Centre for Ecological Sciences, IISc, has led the study, which says water bodies flood the city during heavy rains due to encroachments and construction of buildings on floodplains.
According to the study, the two reasons behind frequent flooding in Bengaluru during every heavy downpour are unchecked concretisation and acute loss of wetland and vegetation over the years.
"Further, narrowing of storm water drains, lack of appropriate drainage maintenance are resulting in urban floods -a phenomenon almost regular since the year 2000," the study says.
What is alarming is 94 percent of the city will become concrete if the current trend of rapid urbanisation continues.
Bellandur Lake is discussed in detail in the study. At Jakkasandra village, the main storm water drain — an upstream of Bellandur Lake — was concretised 50 percent between 1908 and 2017.
As per the study, concretising drains is not a good idea as drains with vegetation are the best option to mitigate floods. Narrowing and concretising them leads to increase in amount and velocity of water during a heavy downpour.
Worse than Mumbai?
Ramachandra has been quoted in the ToI report as saying: that Bengaluru has it harder when compared to Mumbai.
"Mumbai escaped a potential tragedy because of the sea adjacent to it, to which the water could recede. Bengaluru is landlocked. This is something that it needs to wake up to. The only way to ensure this is averted is through decongestion of the city," he said.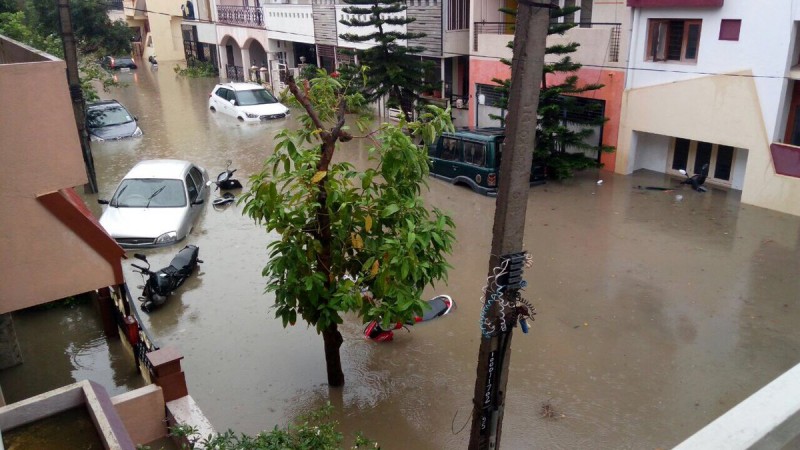 In a 2016 study, Prof T V Ramachandra said the city witnessed 525 percent growth in built-up area in the last four decades. He called it "senseless growth".
As the city becomes a concrete jungle, there is little chance for the water to sink into the ground, leading to a severe decline in groundwater table in a city that was once known for its fresh-water lakes.