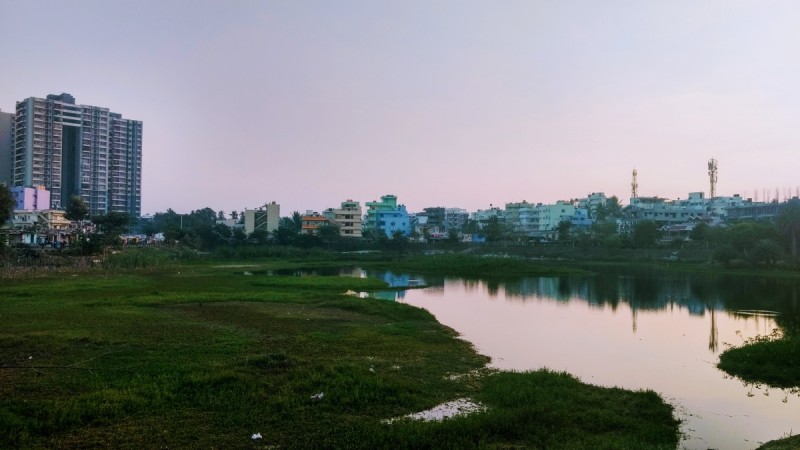 With most lakes, in the Bengaluru city, at a verge of extinction, residents chip in innovative ideas to revive some of the endangered ones. A mechanism called 'trash boom' is being used to bring back the aquatic life in JP Nagar's Avalahalli lake.
The once popular spot for migratory birds in south Bengaluru is now covered in water hyacinths and algae. Excessive growth of weed often causes harm to the lake ecosystem.
Krishna Prasad HS, a volunteer, said, "Generally, weed cleaning was done using bamboo sticks where lake cleaners would hold bamboo and go into the lake. This, however, caused serious skin infections and made it a difficult task. Another option was to use hired hi-tech machines which are very expensive."
But with lake rejuvenation being the need of the hour, cleaning the lake surfaces was the first step in that direction, Krishna added.
The Avalahalli lake revival volunteers have adopted a new technology -- 'trash booms'.
"Trash booms are floating barriers that help cordon off the large amounts of weed that is too heavy to be lifted by humans, and it requires minimal labour. It works in conjunction with one earth moving machine," said Anand, who is a member of the Avalahalli Lake development authority.
Saloni Dani, who is helping the lake authorities revive lakes said that 'trash booms' have been in use for a long time now. They are designed and manufactured in India on a large scale. Trash booms were put to use even during the River Ganga revival. "In Bengaluru, we have taken up three lakes and the results have been impressive," she adds.
Based on the type of weed, these trash booms are customised for each lake, she said, adding that since this method is cost-effective, it can be taken up to solve weeding problems in other lakes as well.
Anand said, "We started this exercise a month ago and we have collected around 4,000 tonnes of weeds so far, and, this month alone, we have around four tonnes of weeds that we removed from the lake. These weeds grow very quickly and the process needs to be repeated once a month."