Eleven years ago, former Prime Minister Manmohan Singh had laid a cornerstone for the Namma Metro project, with a vision of hassle-free commute in Bengaluru. The tech city is all set to welcome the completion of the first phase, the green line section of the metro, which will connect the Sampige Road station and Yelachenahalli. This section will be inaugurated by President Pranab Mukherjee at 6 pm on Saturday. Train service for citizens will begin on Sunday.
The 12 km-stretch of rail service will bring ease to commuters from south Bengaluru. The introduction of this line will also help commuters switch between north-south and east-west corridors at Kempegowda-Majestic interchange. This metro line is expected to cater to at least five lakh people.
The Namma Metro team says it gained valuable experience during the project. "Phase I was new for all of us. We have learned our lessons from the execution of Phase I and will put that to use for the second phase," Pradeep Singh Kharola, MD of Bangalore Metro Rail Corporation (BMRCL), was reported as saying. "Now we are ready to ensure that we complete the 72-km network planned in the second phase within the 2020 deadline."
The construction of Phase 1 commenced in April 2007 and was originally slated to be completed in December 2011.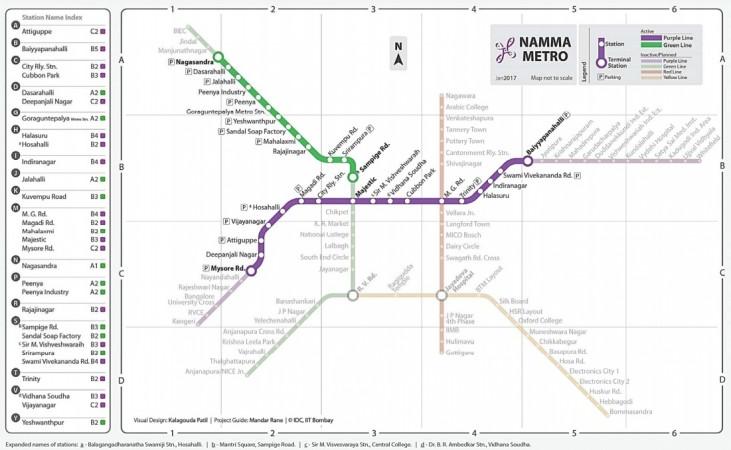 A quick timeline of when each stage opened:
• 20 Oct 2011: Baiyyappanahalli – MG Road (Reach-1, Purple line) – 6.7 km
• 01 Mar 2014: Sampige Road – Peenya Industry (Reach-3/3A, Green line) – 9.9 km
• 01 May 2015: Peenya Industry – Nagasandra (Reach-3B, Green line) – 2.5 km
• 16 Nov 2015: Mysore Road – Magadi Road (Reach-2, Purple line) – 6.4 km
• 30 Apr 2016: MG Road – Magadi Road (UG-2, Purple line) – 4.8 km
• 17 June 2017: Sampige Road – Yelachenahalli (UG-1, Reach-4/4A, Green line) – 12 km
Once the Green Line is launched, it will be 24.2 km long. The stretch between Sampige Road and Nagasandra is already functional. BMRCL plans to deploy 27 of its 50 3-coach BEML trains on the entire line and initially run them at a frequency of 6 minutes through 24 stations. From its existing average ridership of 1.75 lakh/day on two fragmented segments, it hopes to see an average ridership of 4-5 lakh/day after the new line comes is launched.
The Rs 14,200 crore investment comes into action
After over a decade of investments worth Rs 14,200 crore, Bengaluru Metro's Phase I will finally come into action from this Sunday. The Phase 2 of the project involves extention of the current stations as well as introduction of two new lines between RV Road and Bommasandra, and between Gottigere and Nagawara. Recently, BMRCL signed an agreement with Agence Francaise De Development (AfD), a foreign agency from France, for Rs 1,500 crore loan. It had contributed Rs 800 crore to BMRCL for Phase I.
"We are in talks with KfW of Germany and Japan International Cooperation Agency (JICA) to borrow loans," Kharola said. "We are also in talks with AfD for raising funds at sovereign level. As the interest rate offered to sovereign funding is low, we are exploring this option," he added.