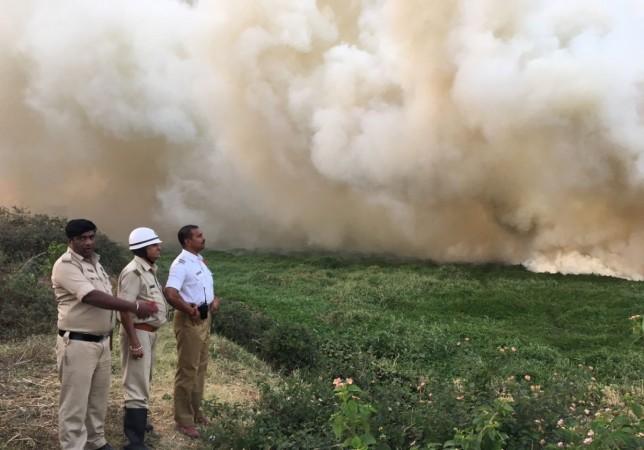 Acerbating Bengaluru's environmental issues and adding to the struggle in saving its dying lakes, the infamous and heavily polluted Bellandur Lake caught fire on Thursday evening for the third time in six months due to illegal dumping of debris.
Also read: 1 feared dead, 7 trapped in Bellandur building collapse
The fire raged for three hours before being doused by the fire department. With the third fire, it proves that the authorities in Karnataka's capital are lax towards environmental issues.
The fire department also found itself in a fix as the fire was in the water. They were not able to find the source of the fire and the lake had become inaccessible.
The Bellandur Lake was previously in news for its white foam due to toxic materials. The lake also emanates toxic fumes. In August 2016, the lake had caught fire due to the foam.
''Lakes are getting degraded beyond the point of recovery. Encroachment, siltation, weed infestation, discharge of effluent both industrial and domestic are knelling the death for lakes in Bangalore,'' KSPCB Chairman Upendra Tripathy had said earlier. 90 percent Bengaluru's lakes are on the point of extinction and the situation is getting dire by the day.
Locals living around the lake had said that the government did not take any measure to curb breeding of mosquitoes in the lake or the foul smell from it.
#WATCH: Debris caught fire at Bellandur lake (Bengaluru) where toxic chemicals are dumped, smoke engulfed lake. Fire under control (16/02) pic.twitter.com/x27ru6Gz7n

— ANI (@ANI_news) February 17, 2017
Residents have often complained that tractors come at night to dump waste in the lake.
People also took to Twitter to vent their anger over the unending problem.