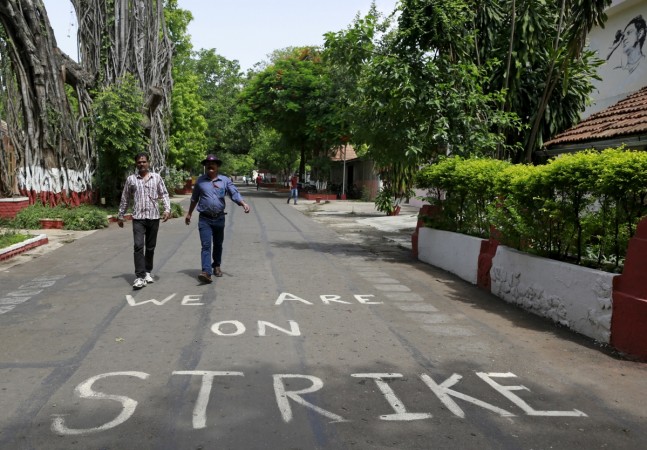 As the state of Karnataka gears up for a 12-hour bandh on January 25, a few schools, colleges and organisations have already declared a holiday on Thursday.
Pro-Kannada organisations and farmers have called for a dawn to dusk strike on Thursday to protest against the delay in the implementation of the Kalasa-Banduri dam project, which if built will divert water from the Mahadayi River to Belagavi, Dharwad and Gadag in Karnataka.
While many educational institutions told International Business Times India that they would take a call later on Wednesday, several offices have either decided to shut down and work on Saturday instead or asked their employees to work from home.
Public transport services too have said that their operation depends on the situation on Thursday and buses and autos may be off the roads, if things turn violent.
So in case your school, college or office has also declared an off on January 25, you are likely to be stuck at home. If buses, autos and cabs are off the roads, you will not really be able to visit places or people. So in a situation like this, what do you do?
Well, here are 7 things you could do on Thursday so that the sudden off day you get doesn't feel like a total waste:
Binge-watch shows on Netflix, Hotstar, and Amazon Prime
Working for long hours or school-work takes up a lot of time on weekdays, and how much can you really accomplish on weekends anyway? Between chores, catching up on sleep and partying, there is little time left to watch your favourite shows. And the bandh may just be a perfect time for you to binge-watch the shows that you have been dying for all this while.
Purge your home and closet
You could use your time to declutter and purge your closet and home. A clean and organised home brings in a sense of positivity and also saves a lot of time when you can find things in minutes.
Do-it-Yourself Projects
DIY projects are a lot of fun but also take quite some time and patience to complete. And an off day might just be the perfect time to get your creative juices flowing.
Read
Very few things feel as good as reading in bed with a cup of tea or coffee. And a mid-week holiday is just perfect for that
Cook exotic things
Cooking is not just therapeutic but also a great way to spend time in a productive way. This Thursday, you could try out all the exotic recipes that have been catching your eye, but you have had no time to try them out. Just make sure to get all the ingredients beforehand and you can then be the MasterChef of your home
Have a conversation with your partner
Everything is so fast-paced these days, that people have little time for real conversations. Meal times often involve watching TV and other times, people are either busy on their computers or phone. This off-day, you could have a good and fun conversation with your partner, laugh, and remember the things that got you close in the first place.
Catch up on your sleep
Who doesn't like sleeping? And this could be the perfect day to turn off that alarm, put your phone on silent and just cozy up in bed and catch up on that much-needed sleep.