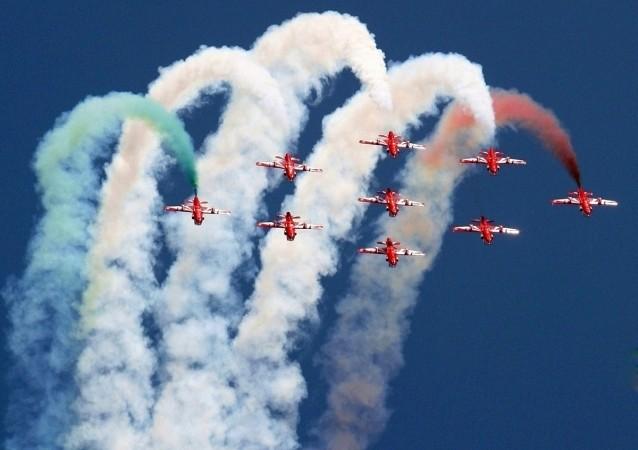 Aero India has been a pride of Bengaluru for over two decades. Hosted by the Defence Ministry, the largest air show in Asia is an absolute visual treat in an atmosphere that instils patriotism. However, it looks like that pride might not be for Karnataka's capital to bask in the coming year.
Sources indicated that the Defence Ministry is in talks to shift the Aero Show to Lucknow for next year, Indian Express reports.
The Bakshi Ka Talab Air Force station in Lucknow is likely to host the 12th edition visual spectacle in 2019. While the possibility of Aero Show being shifted out of Bengaluru has been making rounds for years, the union government seems to have finally settled on the air force station in Uttar Pradesh to host the event.
All said and done, is Lucknow's Bakshi Ka Talab Air Force station the right choice for an event of the scale of the Defence Ministry's Aero Show? An Air Force official who spoke to the Indian Express said it was "impossible at the suggested venue", adding:
Inadequate infrastructure, security concerns for air show routines and sorties, lack of preparedness at the venue, inadequate basic amenities were a concern in 2016 as well and that was a much smaller air show.
Apart from a spectacular display by the Indian Air Force, the commercial event also serves an expo for defence equipment manufacturers from across the world. The Aero Show attracts a massive crowd each year and demands state-of-the-art facilities and a large space to comfortably accommodate it all.
Ever since the first Aero Show was hosted at the Yelahanka Air Force station in 1996, the biennial event has grown into an international attraction, being one of the most stunning displays of the Indian Air Force. The airfield is quite extensive and is often used to train pilots to fly commercial planes.
The facilities at Yelahanka are perfect for an event of the scale that the Defence Ministry's Aero India show boasts. While air force officials seem to be of the opinion that the place in Lucknow would not be a suitable choice for it, what remains to be seen is if Bangalore will be stolen off the glory of hosting the show.