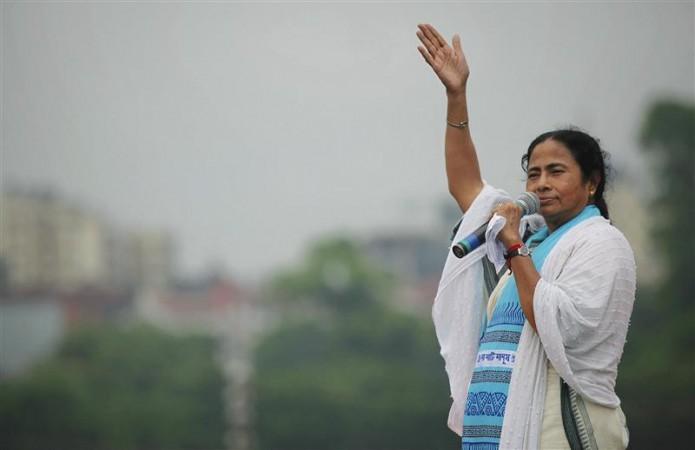 The ruling Trinamool Congress in West Bengal took an early lead in all three tiers of the panchayat polls after nearly five hours of counting on Thursday.
According to the latest trend, Trinamool went ahead in almost all the Zilla Parishad and Panchayat Samiti seats across 20 districts where rural elections were held on May 14.
The Bharatiya Janata Party emerged a distant second as it managed to go ahead or win a section of panchayat seats in a few places, while the Left and Congress heavily struggled to put up a fight.
However, the Trinamool Congress leadership refused to celebrate as a lot of counting still remained.
"It is a good trend for us. We have said before that the people are with us. But I think it too early to comment as the counting for Panchayat Samiti seats are yet to be done," party's Secretary General Partha Chatterjee told IANS.
Sporadic incidents of unrest over the election results were reported from certain districts like Nadia where a group of miscreants allegedly ran away with ballot boxes.
In West Bengal's Bhangar that has been on the boil over the construction of a power grid sub-station by the state government over the last one year, the Independent candidates backed by Jomi-Jibika-Bastutantra O Poribesh Rokkha Committee (Committee for protecting life, livelihood, ecology and environment) won gram panchayat seats, wherever voting took place.
The Panchayat Samiti was, however, won by the ruling party.
The polling for Bengal panchayat polls took place on Monday amid reports of widespread violence and clashes between rival political groups that led to repolling in 573 booths in 19 of the 20 districts on Wednesday.
According to the state administration, 12 people lost their lives on the polling day among which death of six people were confirmed to be due to poll violence.
However, opposition political parties and a section of the media claimed the death toll on the polling day had gone up to 21, while five more people died on the next day.
Initially, voting for the rural bodies was to be held on May 1, 3 and 5 but as the nomination process started in April, it was rescheduled to May 14 by the State Election Commission (SEC) following a Calcutta High Court order to extend the nomination deadline and announce a fresh polling date.
Statistics reveal that of the total 58,692 seats in the three tiers of the rural local bodies, 20,076 seats, or 34.2 per cent, have been decided uncontested, with the Trinamool bagging a whopping proportion of these seats.
These include 16,814 of the total 48,650 gram Panchayats seats, 3,059 of the 9,217 Panchayat Samiti seats and 203 of the 825 Zila Parishad seats.
The Supreme Court has now asked the SEC not to issue winning certificates in these seats.