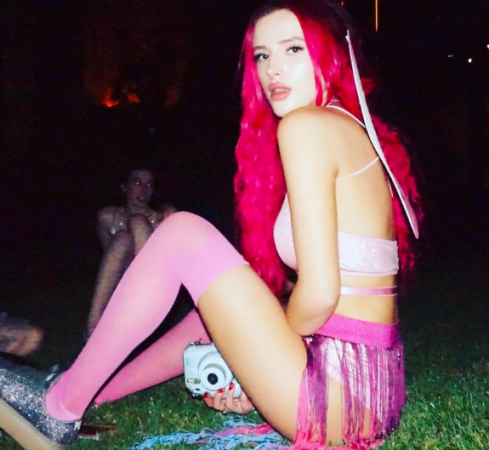 Bella Thorne has constantly been in the news for her past few months, thanks to alleged cheating scandal involving Charlie Puth, rumoured romance with Scott Disick and her various Instagram posts where she is nearly naked.
And a couple of days back, she managed to grab headlines when she was pictured getting cosy with BlackBear, whose real name is Matthew Tyler Musto. A picture posted on Thorne's Instagram page shows her attempting to lick BlackBear, and another picture posted on the hip hop artist's Instagram page has the duo smooching.
Also read: Is Nicki Minaj really dating THIS close friend of hers?
On Tuesday, Thorne posted on her Instagram account a photo of her in a white bra and boy shorts, which had BlackBear gushing about her. "Ur so hot," he commented on the said picture.
Are they an item now?
Thorne has been linked to a number of men in the past one year alone, and the only romance she has confirmed was with Teen Wolf actor Tyler Posey. Shortly after that ended she was spotted getting cosy with Charlie Puth. But at the time Puth claimed she was two-timing him and Posey.
In a Sirius XM interview with Jenny McCarthy on July 17, Thorne opened up about her short-lived fling with Puth, saying she had already broken up with Posey by that time.
"I had hung out with him twice, we went to the movies. He invited me up to Jingle Ball to watch him perform. Everything just got way blown out of proportion," she said.
She also told the photo of them that seemed like they were kissing was misleading.
"It looked like we were about to kiss but we were not about to kiss… I didn't think it was going to be a problem because I knew personally that me and Ty were cool," the Famous in Love actress said.
Simple ✨ A post shared by BELLA (@bellathorne) on Aug 1, 2017 at 11:48am PDT