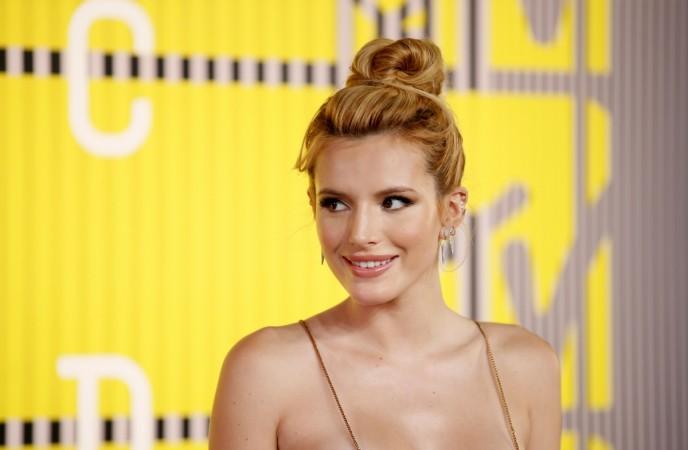 Bella Thorne on Monday had a blast with her friends and she made sure her Snapchat followers shared in on the fun by posting online footage from the wild night.
Also read: Move over diamond rings, wedding tattoos are what you should be getting [PHOTOS]
One clip had Thorne, dressed in a white sheer outfit that flaunted her nipple piercing, locking lips with a girl pal named Lo. "Our first kiss," the Famous in Love actress captioned the video. But Lo wasn't the only one who caught Thorne's attention. Another video showed a girl singing, and referring to the mystery blonde. Thorne wrote: "She's so hot been hitting on her all night... not sure she catches my drift."
This comes just days after Thorne opened up about being slut-shamed. In an interview with Seventeen.com, Thorne opened up about people commenting on her lifestyle, saying she hopes her Famous in Love character Paige will help people understand her as a person better.
"I think people will watch Paige's decisions and they won't judge me so harshly after," Thorne said. "Because they will like Paige and she did sleep with three guys in this series. She literally falls in love with more than 3 people and I'm just seen out with a guy and all the sudden I'm some whore. Are you kidding me right now? Like how are you even saying those words on social media? You're such a mean person. That is so terrible."
Thorne came out as bisexual last year after she took to social media to share a snap of her kissing her brother's ex-girlfriend.
When a fan asked the actress via Twitter if she was bisexual, the actress responded with a simple "yes."
"I didn't think it'd be that big of a deal," Thorne revealed to Out last month, "but of course my publicist calls me right after, and she's like, "You can't just go around saying that!' And I'm like, 'Why can't you?' It made me even more like, 'Fuck you guys, I'm totally bisexual!' I think it's about time people start stepping into the spotlight with the truth of who they are."