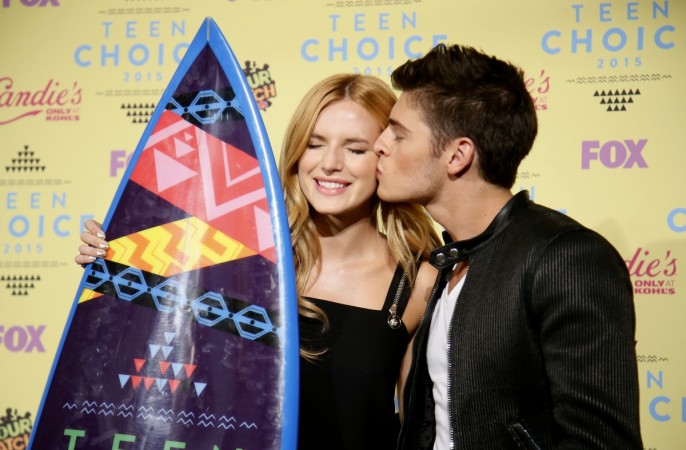 Bella Thorne and Gregg Sulkin broke a lot of teen and tween hearts when they split up earlier this month. Thorne, who is best known for her role in Disney's "Shake It Up," has now revealed that she is bisexual and dating her brother's ex-girlfriend, who is apparently also named Bella.
It was on Monday, Aug. 15, that Sulkin and Thorne announced their breakup with the message: "Our schedules made seeing each other difficult, and we decided that for now this would be best." After mourning the relationship for a while, and reinstating that she would always be thankful to Sulkin for helping her through tough times in her life, she has now announced to the world that she is no longer single.
The "My Own Worst Enemy" actress then had a very casual yet proud coming out moment, where one of her fans asked her "Are you Bisexual" and she simply replied "Yes." The question came after Thorne posted a video of her kissing a girl on snapchat, where she is heard saying, "Oh my God.. I'm just so happy to found you."
I suddenly stan Bella Thorne pic.twitter.com/vnX5oX37l6

— giselle (@g_libby843) August 23, 2016
Also Read: 'Love and Hip Hop Hollywood' Season 3's Brandi cheating on Max?
As always, people on cyber space have very strong responses to this news. While most fans are excited about Thorne's "realness," others are tickled by the fact that she broke up with the British heartthrob of "Faking It" fame to date her brother's ex-girlfriend.
Meanwhile, some are just reminiscing the throwback moments where their OTP was Alex and Mason. They are of course talking about the other Disney show "Wizards of Waverly Place," in which Selena Gomez played the wizard Alex and Sulkin played the werewolf Mason. While this obviously is a far stretch, Thorne has personally assured a fan that this doesn't mean any of them wouldn't have a chance of dating her. Check out some of the fan reactions to Thorne's coming out below:
Yes https://t.co/Ds0ov2Cnmu — bella thorne (@bellathorne) August 23, 2016
bella thorne was only 18 when she dumped her boyfriend to be with her brother's ex girlfriend https://t.co/IhLc4v1bvv

— hafsa (@NoneLikePogba) August 24, 2016
*Bella thorne breaks up with her boyfriend to be with her brothers ex girlfriend* The gays: pic.twitter.com/l7PFwvZPxI — Kate not mckinnon (@engineerholtz) August 24, 2016
OMFG! Bella Thorne broke up with my hubby Gregg so she can date another girl. oh wow~ what happened to Liam actually happened to Gregg.

— V A L E R I E (@onlyuri125) August 24, 2016
Bella Thorne coming out is my favorite thing that has happened all week tbh — Hollstein. (@munroscapshaw) August 24, 2016
SO DID BELLA THORNE REALLY DUMP GREG FOR HER BROTHER'S EX GIRLFRIEND OH MY GOD THIS IS THE FUNNIEST THING SINCE BABYGATE LMAOOO

— !!! (@runawayleeds) August 24, 2016
Bella thorne is dating her brothers ex girlfriend who is also named bella?? pic.twitter.com/tMNtdVW353 — rat mic ™ (@loopzoop) August 24, 2016
good thing Bella Thorne broke up w him for her brother's ex girlfriend cuz he's BETTER OFF W ALEX pic.twitter.com/VitjlRT0RG

— Alz (@alinguyen_) August 24, 2016
Here is how Thorne thanked all her fans for the enormous support:
Aww thank you for all the accepting tweets from everyone. I love you guys ❤️❤️❤️ #pride — bella thorne (@bellathorne) August 23, 2016