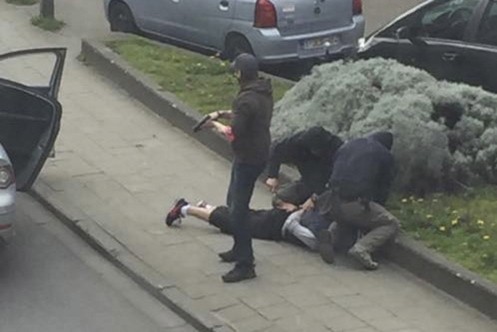 Update: 3.05 p.m. IST -- The group that perpetrated the Brussels attacks initially planned to launch a second attack on Paris, Belgium's federal state prosecutor was quoted by the Guardian as saying Sunday. The group changed its plan as it was "surprised by the speed of the progress in the ongoing investigation" and hence "urgently took the decision to strike in Brussels."
Original Story -- Mohamed Abrini and Osama K were charged Saturday for terrorist murders for their involvement in the Paris and Brussels attacks. Abrini also confessed to being the "man in the hat" seen in CCTV footage from the Brussels airport.
Abrini and Osama were arrested Friday separately in Belgium. Belgian prosecutors said that Abrini admitted to being present at the Zaventem airport where multiple bomb attacks were carried out March 22. He said that he threw away his jacket and sold his hat after leaving the premises. The other man who was arrested Friday, Osama — also wanted for the two major attacks on the European cities that killed 160 people — was identified as a Swedish citizen as Swedish national Osama Krayem. He was seen at the Malbeek metro station with a suicide bomber before the attack, according to ABC News.
"After being confronted with the results of the different expert examinations, he [Abrini] confessed to his presence at the crime scene," the Federal Prosecutor's Office said in a statement. "He explained having thrown away his vest in a garbage bin and having sold his hat afterwards."
The Brussels Police had tweeted April 7 seeking the public's assistance in locating Abrini, identified as the third attacker. His DNA was found in two safe houses and a car used for the Paris attacks, BBC quoted Belgian investigators as saying. While Osama apparently entered Belgium using a fake Syrian passport and was allegedly driven to Paris by Salah Abdeslam, who is also in police custody in Belgium, BBC reported.
Two other people — Herve BM and Bilal EM — were arrested Friday and charged for their "participation to the activities of a terrorist group." They have also been charged for being complicit in terrorist murders, ABC News reported.
Responsibility for the two attacks on the European capitals was claimed by the Islamic State group.
"We are positive about the recent developments in the investigation," Prime Minister Charles Michel was quoted as saying by Reuters. "But we know we have to stay alert."