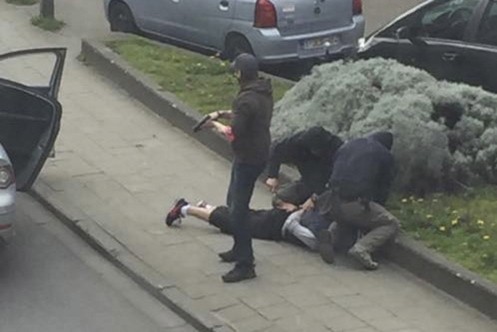 Two terror suspects linked to the November 2015 Paris attacks and the March 22 Brussels attacks were arrested in Belgium Friday. They were also suspected to have accompanied the Brussels suicide bombers. Both the attacks, claimed by the Islamic State group, left over 160 people dead.
Mohamed Abrini, suspected to be the "man in the hat" seen on CCTV footage at Brussels' Zaventem airport, was arrested near the Molenbeek neighbourhood in the Belgian capital, according to Reuters. His fingerprints and DNA had been found in a flat, which was used by the Brussels bombers to assemble the explosives used in the attacks. He was also seen along with another Paris attacks suspect and would-be suicide bomber Salah Abdeslam last year.
Another terror suspect Osama K, who was suspected to have accompanied Maelbeek metro station bomber Khalid El Bakraoui and was caught on CCTV camera, was also arrested. He had also reportedly been caught last year using a fake Syrian passport, while travelling in a car rented by Abdeslam.
Two other people were also arrested in the raids. Abdeslam had been arrested in a raid in Brussels last month, days before terrorists struck the European capital.
The arrests come amid severe criticism against Belgian authorities for lapses that led to the Brussels attacks. Belgium is said to have ignored a warning from Turkey about the Zaventem airport bomber Ibrahim El Bakraoui.
Belgian Interior Minister Jan Jambon took to Twitter Friday to hail the security forces following the significant arrests. He had earlier offered to resign from his post after the Brussels attacks, in which over 30 people were killed.
"Congratulations to all the police and security services. The fight against terrorism continues," the Belgian minister said.
Belgian Prime Minister Charles Michel had earlier this week admitted that the Brussels attacks highlighted a security "failure," but said Belgium was not a "failed state."