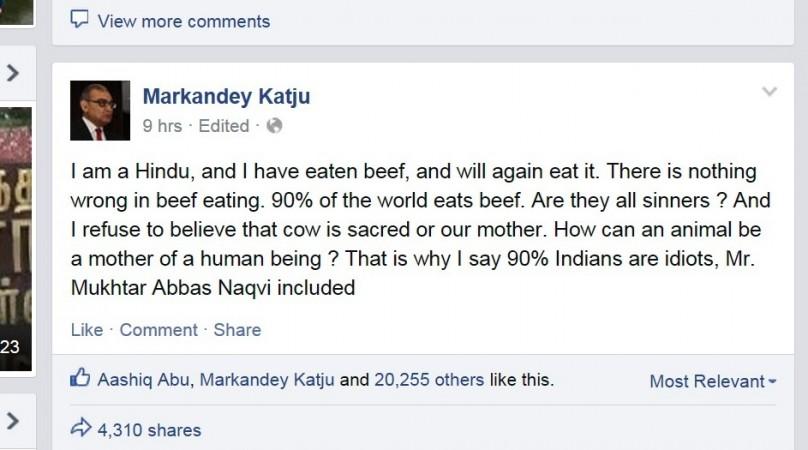 Former Supreme Court judge Justice Markandey Katju on Friday called Union Minister of State for Parliamentary Affairs Mukhtar Abbas Naqvi an "idiot" over the latter's statement on Thursday that those who cannot live without eating beef should go to Pakistan or any other country.
Slamming the minister – a senior BJP leader – over his remark, Katju posted on his Facebook page: "I am a Hindu, and I have eaten beef, and will again eat it. There is nothing wrong in beef eating. 90% of the world eats beef. Are they all sinners ?"
" And I refuse to believe that cow is sacred or our mother. How can an animal be a mother of a human being ? That is why I say 90% Indians are idiots, Mr. Mukhtar Abbas Naqvi included," the post of former chief of Press Council of India reads.
Even Finance Minister Arun Jaitley disapproved of Naqvi's remark, saying people should be aware of their responsibilities.
Speaking at a media conclave on Thursday, Naqvi had said, "It is not about loss or profit, but it is an issue of faith and belief. Those who are dying without eating beef can go to Pakistan or Arab countries or any other part of the world where it is available."
Naqvi's statement came while he was countering All India Majlis-e-Ittehadul Muslimeen's (AIMIM) president Asaduddin Owaisi at the conclave on the issue of ban on beef.