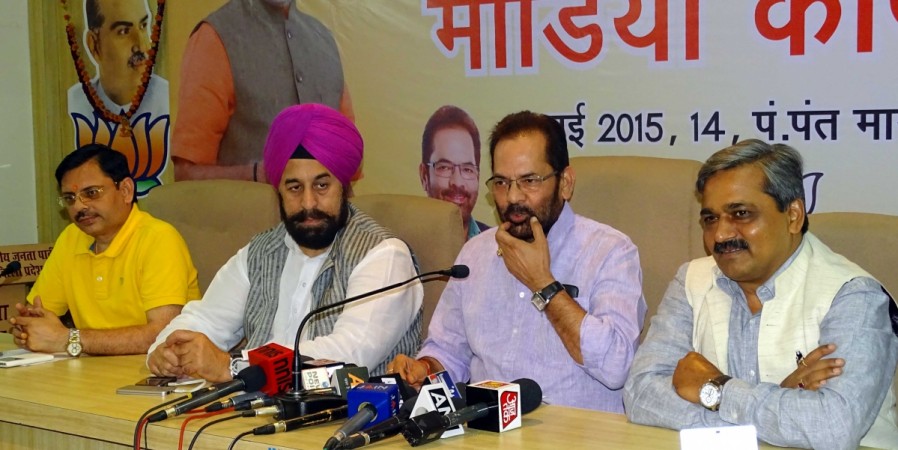 Justifying the ban on cow slaughter, Minister of State for Parliamentary Affairs Mukhtar Abbas Naqvi in the Modi government has said those are desperate to eat beef can go to Pakistan.
"Those who are dying without eating beef, can go to Pakistan or Arab countries or any other part of world where it is available," he said, and added even Muslims in India are against cow slaughter.
Naqvi, who also holds the minority affairs portfolio, made the comment while speaking at 'Manthan' conclave organised by a Hindi news channel.
"It is not about loss or profit... it is an issue of faith and belief. It is a sensitive issue for the Hindus," IANS quoted Naqvi as saying.
AIMIM president Asaduddin Owaisi, who was also present at the conclave, asked Naqvi whether the BJP will impose nationwide ban on beef consumption, especially in states like Goa, Jammu & Kashmir and Kerala, where beef consumption is high.
In March this year, the Maharashtra government brought in the Maharashtra Animal Preservation (Amendment) Act in the state, imposing ban on slaughter of cows, bulls and bullocks, besides consumption or possession of their meat.
The ban triggered protests across India, with students in Kerala and Hyderabad even celebrating beef day in protest against the law, which the BJP government is reportedly mulling to expand to other states.