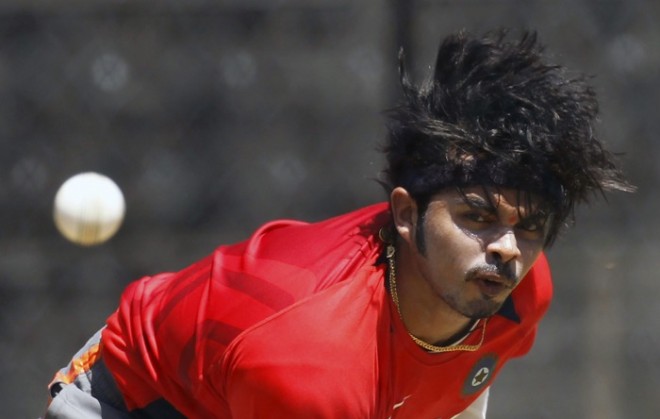 The honorary secretary of the Board of Control for Cricket in India (BCCI) Anurag Thakur has confirmed on Monday that the ban imposed on the three Rajasthan Royals players S Sreesanth, Ankit Chavan and Ajit Chandila will stay.
A Delhi trial court on Saturday dropped the charges against Sreesanth, Chandila and Chavan, who were charged under the MCOCA Act (a law passed by the Maharashtra government to tackle organised crime syndicates), on the basis of insufficient evidence. But the honorary secretary said the ban will not be lifted and the decision has been taken after an independent investigation.
Criminal proceedings are entirely different to the disciplinary proceedings. The decision has been taken by the BCCI's disciplinary committee, not by a court of law. Action has been taken against the players on the report of our anti-corruption unit. As per the BCCI rules and regulations, the ban on these players will stay," Thakur said in an interview to ESPN Cricinfo.
Both Sreesanth and Chavan were banned for life by BCCI and Chavan's verdict is still pending as he failed to appear in front of the panel, but he was found guilty of the same charges. After the Delhi court's verdict, all the three players wished to return to the game, especially Sreesanth who said that his dream is to play for India in the ICC World Cup 2019. Thakur said the players can move a higher court as this is a democracy.
"Any Indian citizen can go to a court of law if they are not happy with any decision. Delhi police will go to the higher court to challenge the lower court verdict. I haven't received any representations from these players, so as of now the ban stays," Thakur said.
Thakur also spoke about the Lodha Committee Verdict. He said the Board respects the decision of the committee and the Working Group is currently studying the report and soon they will come up with a decision.
"The Lodha committee has looked into each and every aspect of the situation. They have suspended the teams for two years. At the same time BCCI working group is looking into the details of how to implement it so that our players, especially the domestic players, should not suffer because of this verdict," Thakur added.