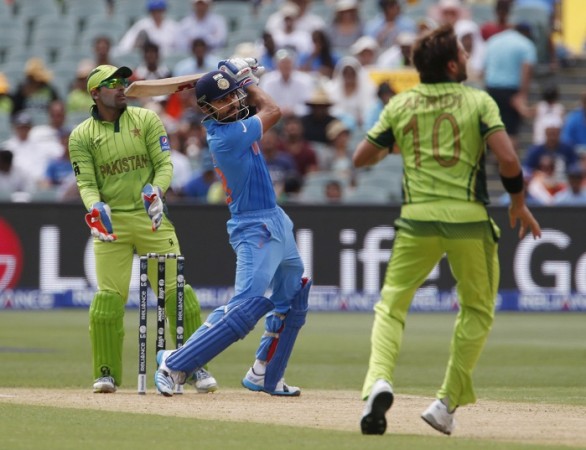 Pakistan Cricket Board (PCB) and Board of Control for Cricket in India (BCCI) chiefs, Shaharyar Khan and Jagmohan Dalmiya, met in Kolkata at the latter's residence on Sunday. The PCB chief later said Pakistan is confident of hosting India for a bilateral series in December in the United Arab Emirates (UAE).
The two met in Kolkata as part of their efforts to resume Indo-Pak cricketing ties.
Shaharyar Khan thanked Dalmiya for taking a step to resume what is considered the most-sought rivalry in cricket.
"We resume the India-Pak series in UAE. This is the re-beginning of the revival of Indo-Pak cricket. The series will start in December as per schedule and it will comprise three Tests, five ODIs and two T20s. The preparation is on in full swing. We have to overcome the final hurdle," Shaharyrar Khan told reporters after meeting the BCCI chief in Kolkata.
"I am really grateful to Dalmiya for hosting me here I am glad that we could start the process again. You may know as per the MOU there will be 5 series between the two countries in 8 years.
"I am thankful to Dalmiya. I come here personally to convey my heartiest congratulations to Jagmohan Dalmiya for becoming the BCCI President. My relationship with Dalmiya goes back a long way when he was the BCCI chief and I was PCB chief and we had hosted the 2004 Indo-Pak series. All this was made possible due to the effort of Dalmiya," Khan added.
BCCI did not go on to confirm any schedule but they said in a media release that this series is "desirable".
The BCCI media release issued by its honorary secretary Anurag Thakur read: "Regarding the resumption of bilateral cricket ties, it was felt that it is desirable to recommence such cricket contact.
After proactive discussions, since there are certain matters that need to be addressed and considered, it was decided to take appropriate steps. The two Boards would be in regular touch and review the situation.
Both Mr. Dalmiya and Mr. Khan were hopeful that positive results would emerge from these discussions."