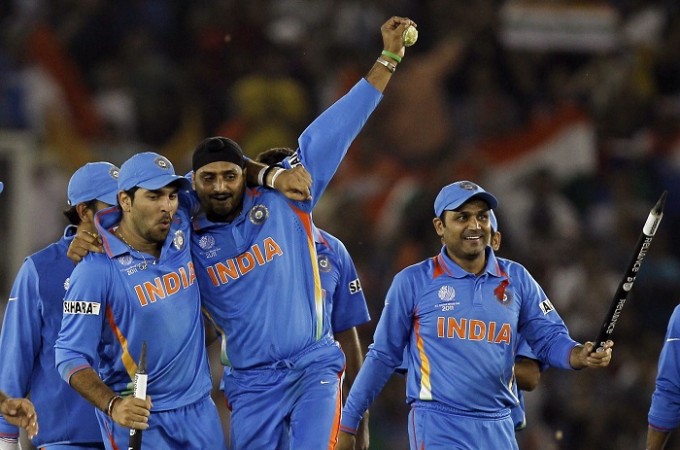 The Board of Control for Cricket in India (BCCI) is thinking of bringing the fabulous four – Yuvraj Singh, Virender Sehwag, Harbhajan Singh and Zaheer Khan –back into the squad for India's tour of Bangladesh next month.
The quartet has contributed immensely for India in the past. They were also key to India winning the ICC World Cup 2011. Zaheer, Sehwag and Harbhajan were also a part of the Indian team when they reached the zenith of Test rankings. It will be a treat for fans across the world to witness these fab-four one last time, probably in Indian colours, before they decide to hang their boots.
A BCCI official said that it is too early to confirm the inclusion of these four players, but they are considering them as the Board wants to give the players a graceful send-off, keeping in mind their valuable contribution to Indian cricket, reported Mail Today.
"What they have done for Team India in the past decade will be hard to match. But as is the case with every sport, time does catch up with you. So we are thinking about giving them an opportunity to go to Bangladesh and sign off on a high.... Some people may term it an emotional decision, but so what? But yes, the idea needs the approval of national selectors," the BCCI official told Mail Today.
The squad for India's tour of Bangladesh will be announced on 20 May in Mumbai. When asked whether these four players will be picked for the entire tour or not, the BCCI official said: "That would depend on the selectors. It could very well be that some of the players are picked just for the Test match while the others are picked for the ODI series."
The return to the international scenario looked bleak for all the four players and thus they were banking on making a return by using the Indian Premier League as a platform. But it did not seem to be going well for most of them. Yuvraj have managed to score only 237 runs in 13 matches for Delhi Dardevils. On the other hand, Zaheer had a fabulous comeback in this edition of the IPL for the Delhi Dardevils. He showed that he is still one of the best in the business. Virender Sehwag has had a poor IPL, managing just 99 runs in eight games. Harbhajan Singh has been an important asset for Mumbai Indians and has proved that there's still substance left in him.
It will indeed be amazing to see the four players donning the Indian cap and taking on an improved Bangladesh squad. Bangladesh showed their grit during the World Cup 2015 as they reached the quarter finals, where they were beaten by India. They recently whitewashed Pakistan 3-0 in the ODI series and would be raring to avenge their quarter final defeat to India, in their backyard.