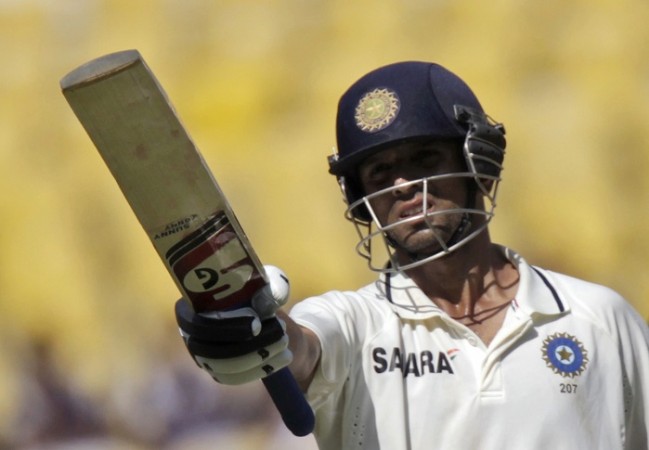 The Board of Control for Cricket in India (BCCI) secrertary Anurag Thakur announced the appointment of former Indian skipper Rahul Dravid as the coach of India 'A' and Under-19 teams in a press conference in Kolkata on Saturday.
Earlier when BCCI had announced the names of the legendary trio of Sachin Tendulkar, Sourav Ganguly and VVS Laxman to constitute the BCCI Advisory Committee, Dravid's name went missing from the panel.
According to reports, Dravid was approached for a post in the Advisory Committee, but he refused as he wanted to have a more "hands-on role" in Indian Cricket.
His exclusion from the newly constituted Advisory Committee raised a lot of eyebrows. Reports suggested that Dravid would feel uncomfortable working with Ganguly and thus he refused the role.
Dravid's name was hovering along with the Tendulkar, Ganguly and Laxman in the Board meetings. There were speculations that Dravid would be the next Indian coach as Duncan Fletcher's tenure came to an end after the ICC Cricket World Cup 2015.
Brushing aside all the rumours, Thakur announced Dravid as the coach of India 'A' and the Under-19 teams. This decision came after the legendary trio met with Thakur and board president Jagmohan Damiya in Kolkata on Saturday. "The good news is that Rahul Dravid has agreed to coach India A and India Under-19 in the future," he said at the press conference.
When Thakur was asked about the appointment of next Team India coach, he said, "Till the time we don't make any changes, the current set-up will continue. We have not shortlisted any names but in some time we will have a few names and the advisory committee meeting will be held.
"We will be hiring a number of coaches, physios and trainers. We would like to have a pyramid like structure where from top to bottom, similar coaching and facilities are available to all.
"All three (of the committee members) of them agree that if need be, Sourav, Sachin and Laxman can spare some time to help the Indian cricketers. Our focus will be to play more and more overseas. The next meeting of legends committee will be held after the shortlist of new trainers and physios is decided.
"I am glad that when Sourav, Sachin and Laxman were approached, everybody agreed in minutes. The passion and commitment level shown by the former cricketers is exceptional," Thakur concluded.