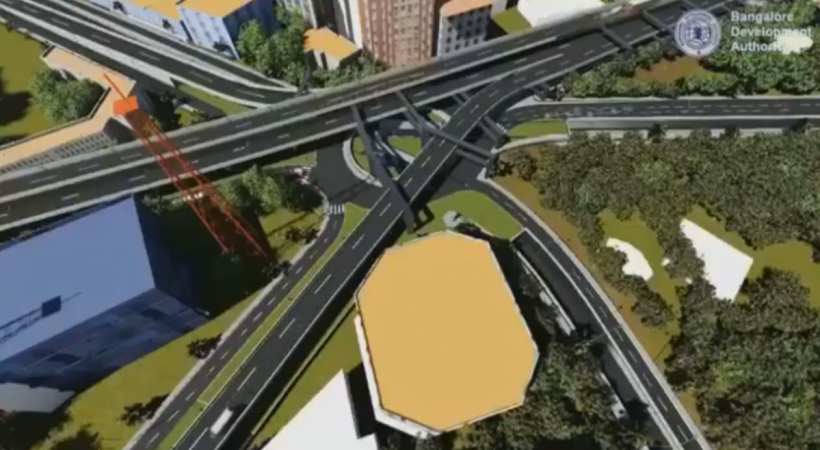 Are you one of those Bengalureans who are worried over the prospects of more than 110 trees getting chopped for the purpose of development? The Bruhat Bengaluru Mahanagara Palike (BBMP) has issued a notice asking the citizens to file objections, if they have any, to the cutting of 112 trees "which are coming in the way" of widening the Jayamahal Main Road in the city. The objections can be filed with valid reason and supporting documents through email — acfsubdivision1bbmp@gmail.com — or phone call — 9480685381 — within 10 days.
The notice was issued by BBMP's assistant conservator of forests and tree officer on Tuesday (February 7). The authorities have said that the project to widen the Jayamahal Main Road was being considered since several years. However, the citizens believe that the felling of 112 trees is the first step towards the government's decision to build the controversial steel flyover to reduce traffic congestion from Mehkri Circle towards Bengaluru Cantonment.
According to Bangalore Mirror, if the cutting of trees on Jayamahal Main Road is the first step towards building the steel flyover, the whole project could result in the felling of at least 812 trees. The National Green Tribunal (NGT) has temporarily stayed the project and is yet to give its final order.
An engineer from the Bangalore Development Authority (BDA), the agency in-charge of executing the project, told Bangalore Mirror: "To avoid the congestion at Raj Bhavan or Chalukya Circle or near Race Course Road, the BDA has decided to provide down ramps at various junctions like near Maharani College and Raj Bhavan side. We have provided up and down ramp between Maharani College underpass and AG office so that traffic can use the flyover without getting stopped at Chalukya junction. We have also provided down ramp for traffic from Hebbal towards Jayamahal and at Vasanthanagar Main Road to distribute the exiting traffic."
According to the Hindu, the BBMP had decided to widen the Jayamahal Main Road in 2011 but could not do so due to protests by activists against the project.
Naresh Narasimhan of Citizens for Bengaluru told the daily that the proposal was a "travesty".
"Why do they have to cut the trees when there are viable options to save them. The trees can be maintained at medians or transplanted to different locations ... We are determining our options before we take this up with the NGT," Narasimhan said.