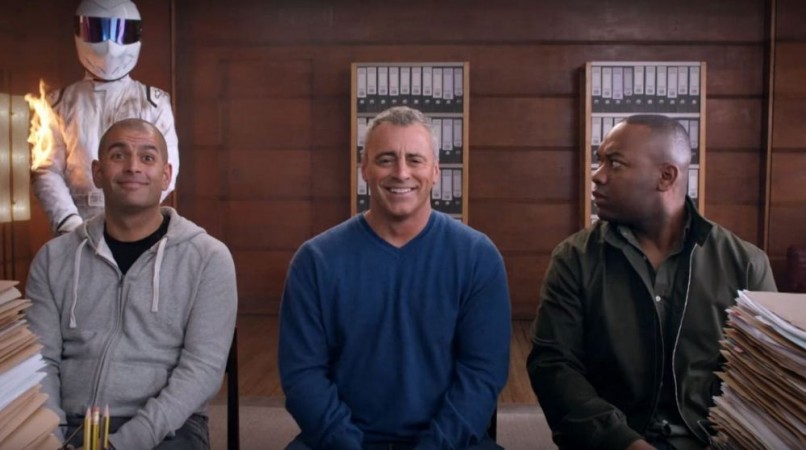 The first series of BBC Top Gear after the infamous exit of hosts Jeremy Clarkson, Richard Hammond, and James May had a roller coaster ride. BBC introduced six presenters in the Series 23- Chris Evans, Matt LeBlanc, Rory Reid, Sabine Schmitz, Chris Harris and Eddie Jordan. At the end of series aired during June and July 2016, the viewership fell from 4.3 million to 1.9 million and that led to the exit of new lead presenter Chris Evans.
Also read: The Grand Tour episode 13: Season 1 ends with Bugatti Veyron, Porsche 918 Spyder losing to 1900hp Nissan Patrol
After the eventful first series post Clarkson and co. era, the British auto television series is gearing up for a comeback with series 24 soon. BBC has dropped a 1 minute 39 seconds long trailer of the new series in which Friends star LeBlanc, YouTube car review sensation Harris and motoring journalist Rory Reid are the key presenters. The video also shows The Stig, part of the line-up while there is no clarification on the involvement of other two series 23 presenters - German professional motor racing driver Schmitz and Formula 1 expert Jordan.
The video starts with LeBlanc, Harris and Reid enduring an awkward car insurance interview with the BBC's insurance evaluator. The jump shots shows Harris drifting a 1036bhp Ferrari FXX K, a car chase scene in which LeBlanc drives an Aston Martin DB11, Reid crashing his taxi in Kazakhstan and LeBlanc picking up naked hitchhikers in an Avtoros Shaman. The film ends with an appearance by The Stig with fire on his right arm there by ruining the trio's chances of getting away with a clean bill of health.
BBC has not released timeline for the show. The announcement comes soon after the Jeremy Clarkson, Richard Hammond, and James May finished airing of the first season of their brand new show The Grand Tour. The motoring television series for Amazon Video had 13 episodes in the first season and season 2 has been scheduled later this year.